SIMPLIFY YOUR WARDROBE
A practical workbook to help you create a closet that works for you with clothes that make you feel good and look great, without hassle!
HOW DO YOU FEEL ABOUT YOUR WARDROBE?
When you get dressed each morning, do you throw open your wardrobe doors with excitement? Or do you just grab the first thing to hand because you've run out of time, you don't really like your clothes (or feel good in them) and it's all just a bit of a hassle?
Do you feel better when you know you look better? Doesn't having more confidence and positivity really set you up for a better day ahead? I know it does for me.
In short, does your wardrobe support you to both look and feel good?
A SIMPLER CLOSET AND LESS HASSLE
As adults, it's generally reported on the internet that we make over 35,000 remotely conscious decisions every day. That's a lot of decisions! Each of those decisions requires brain power and this uses up our time and energy.
One of the first decisions you make each day is deciding what to wear.
You can start your day off with more ease and less stress by simplifying your wardrobe. Make it quicker to find clothes you enjoy and feel great wearing… and set the tone for the rest of your day!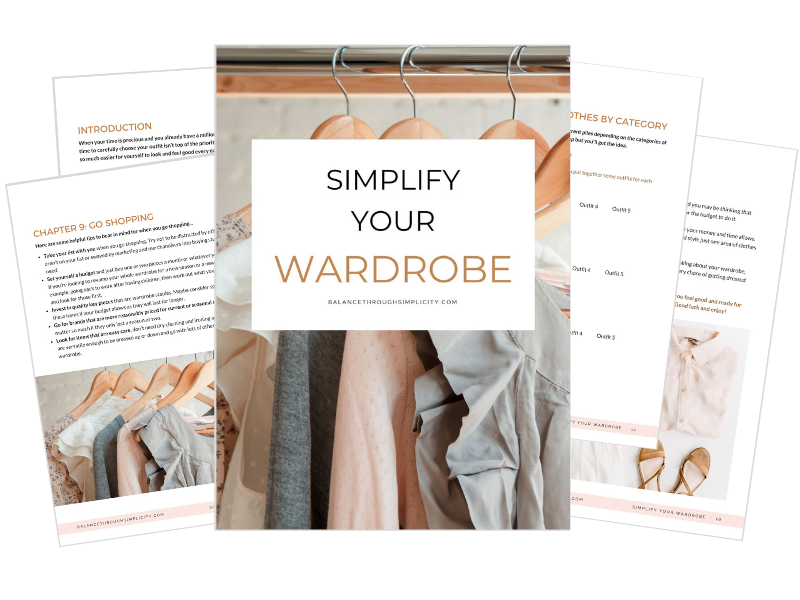 HOW THIS WORKBOOK CAN HELP
Simplify Your Wardrobe is a printable workbook in PDF format to help you make-over and breathe life into your clothes and closet!
This workbook includes a mix of information, questions and actionable steps to help you put into practice what you're learning when you open your own closet.
This is what you'll cover as you work through the toolkit:
Step-by-step instructions to declutter your wardrobe from start to finish
Questions to help you work out exactly what clothes you need to suit your lifestyle
How to put together combinations easily and quickly to cut down on wasted time and yet more decision-making
Analyse your current wardrobe and identify what works and what doesn't
Advice on how to build a signature style that's unique to you
Tips to help you shop more carefully and save money
When we look good, we feel good. I'd love to think this workbook will help you feel good about yourself…
"Buy Less, Choose Well, Make it Last"
– Vivienne Westwood
FAQs
How will I receive the workbook?
Click the Buy Now button, complete the payment details and receive a link to download, save and print your workbook today! It's really simple and easy, even if you're not very tech-savvy!
What format will I receive the workbook?
The workbook is in PDF format. You can print it out as many times as you like. All I ask is that you don't share the material with others.
Will I receive updates?
I review my content regularly. At the time of purchase, if you opt in to receive updates then you'll automatically be informed of, and receive links to, the updated product so you'll never miss out!
What if I'm unhappy with my purchase?
Due to the downloadable nature of this product, I'm afraid refunds aren't available. However, if you have any questions at all before you make your purchase (or after!), please reach out to me at hello@balancethroughsimplicity.com and I'd be really happy to help.
Give your closet a make-over!
For hassle-free mornings and a confident, positive you.