CHRISTMAS QUOTES FOR A SIMPLE AND MEANINGFUL CHRISTMAS
I'd like to share some Christmas quotes for a simple and meaningful Christmas. Reflect on them, share them with loved ones and enjoy a slow, heart-felt Christmas this year.
A SIMPLE CHRISTMAS
Christmas can feel rushed, expensive and overwhelming but I do believe that being a little organised, planning ahead and focusing your time, energy and money on what makes Christmas feel special to you can really help remove the seasonal stress and pressure.
Stores and sharp advertising tactics encourage us to do more, buy more and spend more but this doesn't mean that Christmas is any more memorable or special.
I hope the following Christmas quotes remind you and encourage us all to focus on the true magic and meaning of Christmas this year, whatever that looks like for you.
HOW TO USE THESE CHRISTMAS QUOTES
Words are powerful and I love sharing quotes on Instagram and Facebook. They're great ways to share the message of simplicity and remind us to be intentional in life in so many ways.
You could use these Christmas quotes as:
Thoughtful messages written in Christmas cards to send to loved ones
As journal prompts to help you reconnect with your thoughts and feelings
To share on social media and spread the idea of a meaningful and simple Christmas
Pin to Pinterest as a source of information and inspiration
Let me know in the comments at the end of this article if you have any other ideas!
CHRISTMAS QUOTES FOR A SIMPLE AND MEANINGFUL CHRISTMAS
Here are some powerful and thoughtful Christmas quotes for a simple and meaningful Christmas and holiday season.
1. "Joy comes to us in ordinary moments. We risk missing out on joy when we get too busy chasing down the extraordinary." (Brene Brown)
2. "Christmas will always be as long as we stand heart to heart and hand in hand." (Dr Seuss)
3. "Seeing is believing, but sometimes the most real things in the world are the things we can't see." (Chris Van Allsburg)
4. "When we remember a special Christmas, it is not the presents that made it special, but the laughter, the feeling of love, and the togetherness of friends and family that made that Christmas special." (Catherine Pulsifer)
5. "The joy of brightening other lives becomes for us the magic of the holidays." (W.C. Jones)
6. "It's not how much we give but how much love we put into giving." (Mother Teresa)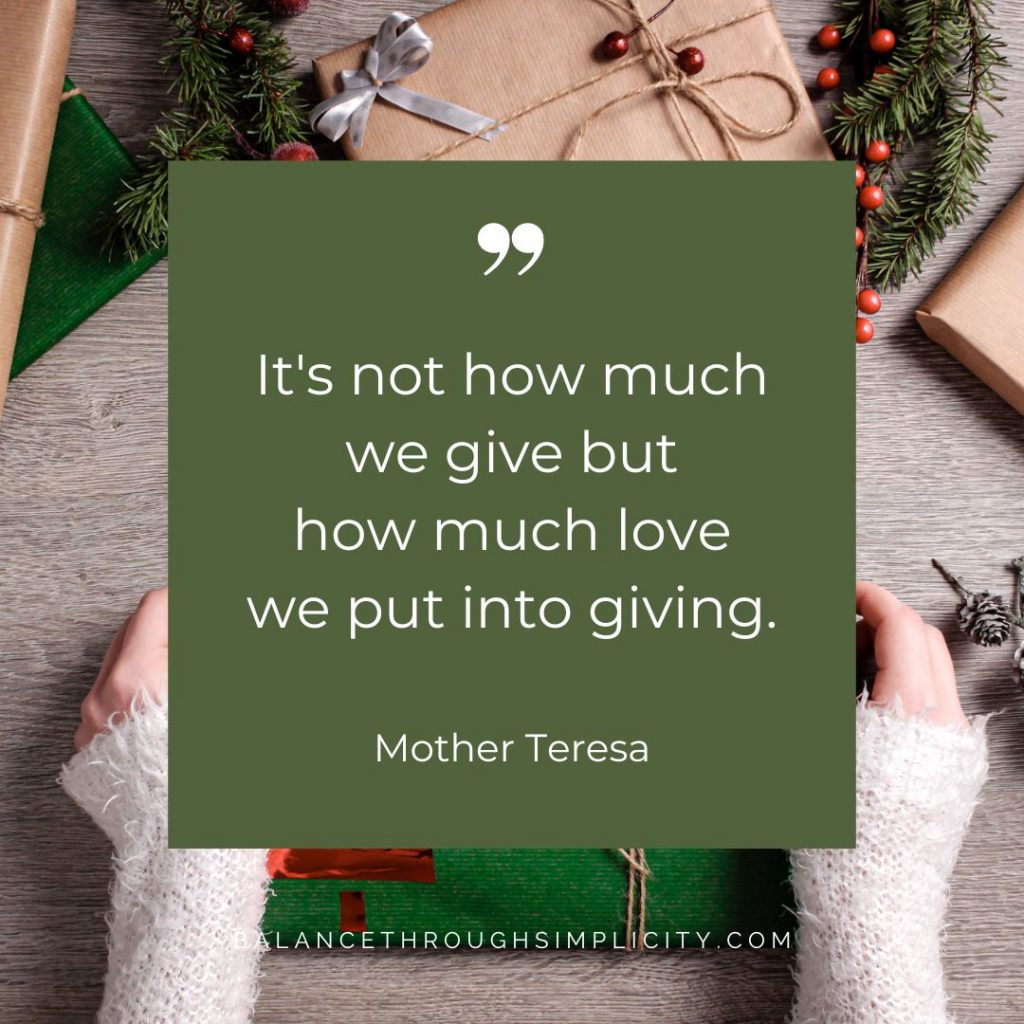 7. "Christmas is most truly Christmas when we celebrate it by giving the light of love to those who need it most." (Ruth Carter Stapleton)
8. "Some Christmas tree ornaments do a lot more than glitter and glow, they represent a gift of love given a long time ago." (Tom Baker)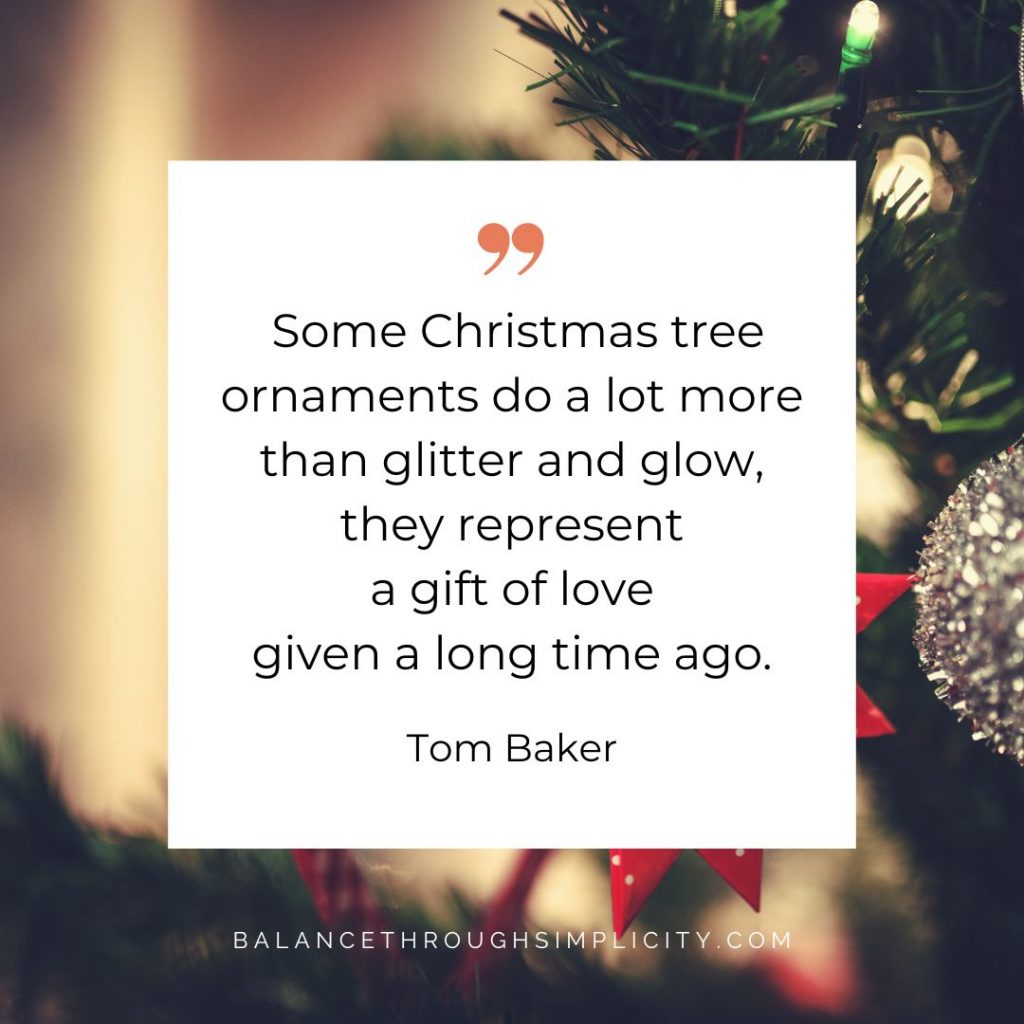 9. "Gifts of time and love are surely the basic ingredients of a truly merry Christmas." (Peg Bracken)
10. "Christmas is the day that holds all time together." (Alexander Smith)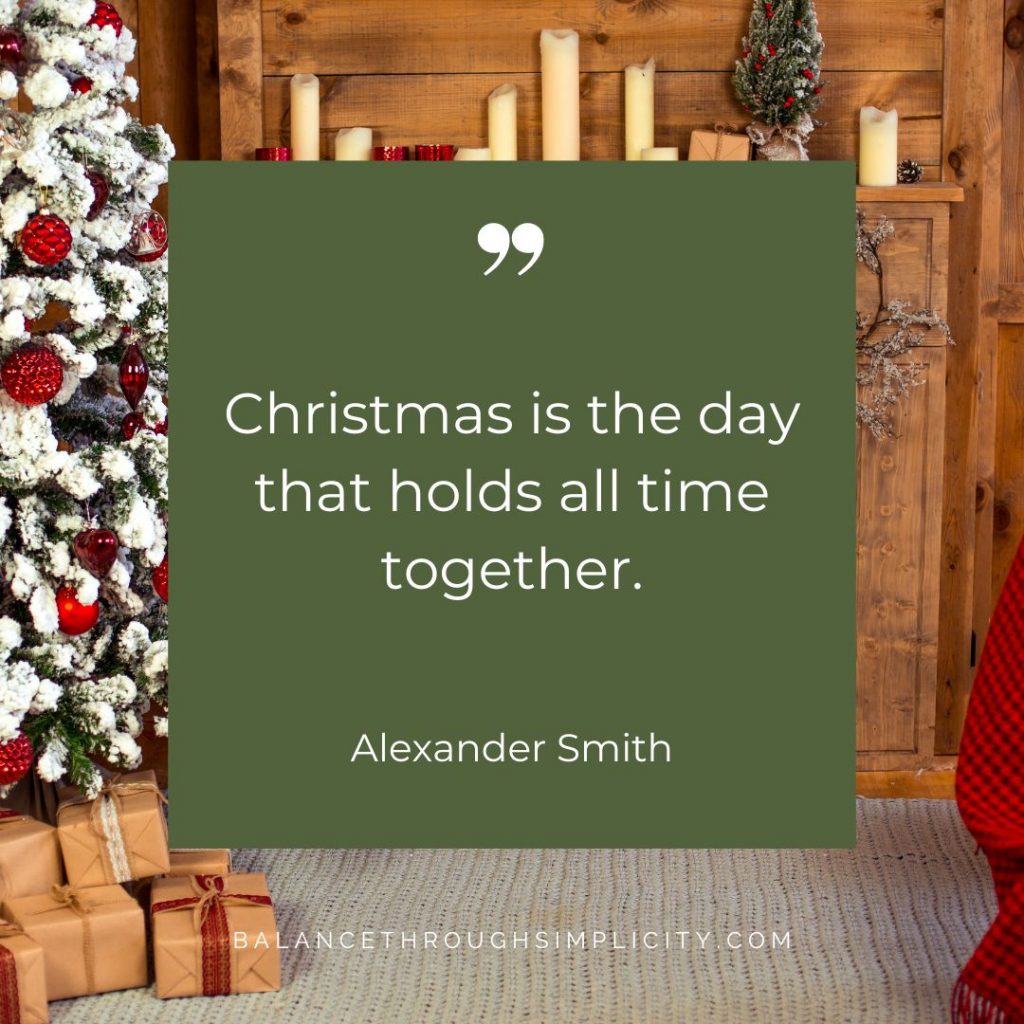 11. "The way you spend Christmas is far more important than how much." (Henry David Thoreau)
12. "Christmas gives us an opportunity to pause and reflect on the important things around us." (David Cameron)
13. "May you never be too grown up to search the skies on Christmas Eve." (Anonymous)
14. "Let us keep Christmas beautiful without a thought of greed." (Ann Garnett Schultz)
15. "Christmas is a season not only of rejoicing but of reflection." (Winston Churchill)
16. "It is Christmas in the heart that puts Christmas in the air." (W.T. Ellis)
17. "Christmas, to me, is as many people as possible happy." (Tupac Shakur)
18. "Christmas may be a day of feasting, or of prayer, but always it will be a day of remembrance, a day in which we think of everything we have ever loved." (Augusta E. Randel)
19. "Christmas is not as much about opening our presents as opening our hearts." (Janice Maeditere)
20. "And we are better throughout the year for having in spirit, become a child again at Christmas time." (Laura Ingalls Wilder)
21. "Christmas magic is silent. You don't hear it, you feel it. You know it. You believe it." (Kevin Alan Milne)
22. "Christmas is forever, not for just one day. For loving, sharing, giving, are not to put away." (Norman Wesley Brooks)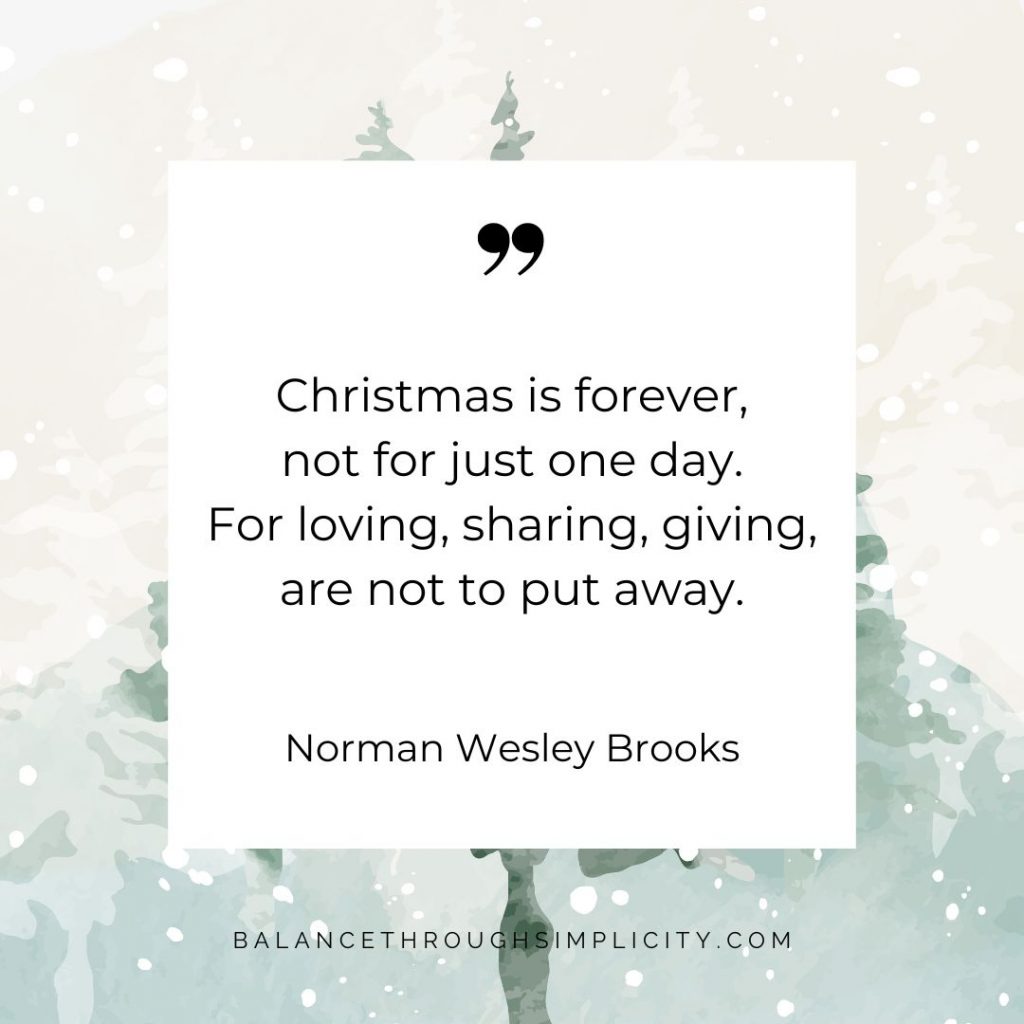 23. "The holiday season is a perfect time to reflect on our blessings and seek ways to make life better for those around us." (Anonymous)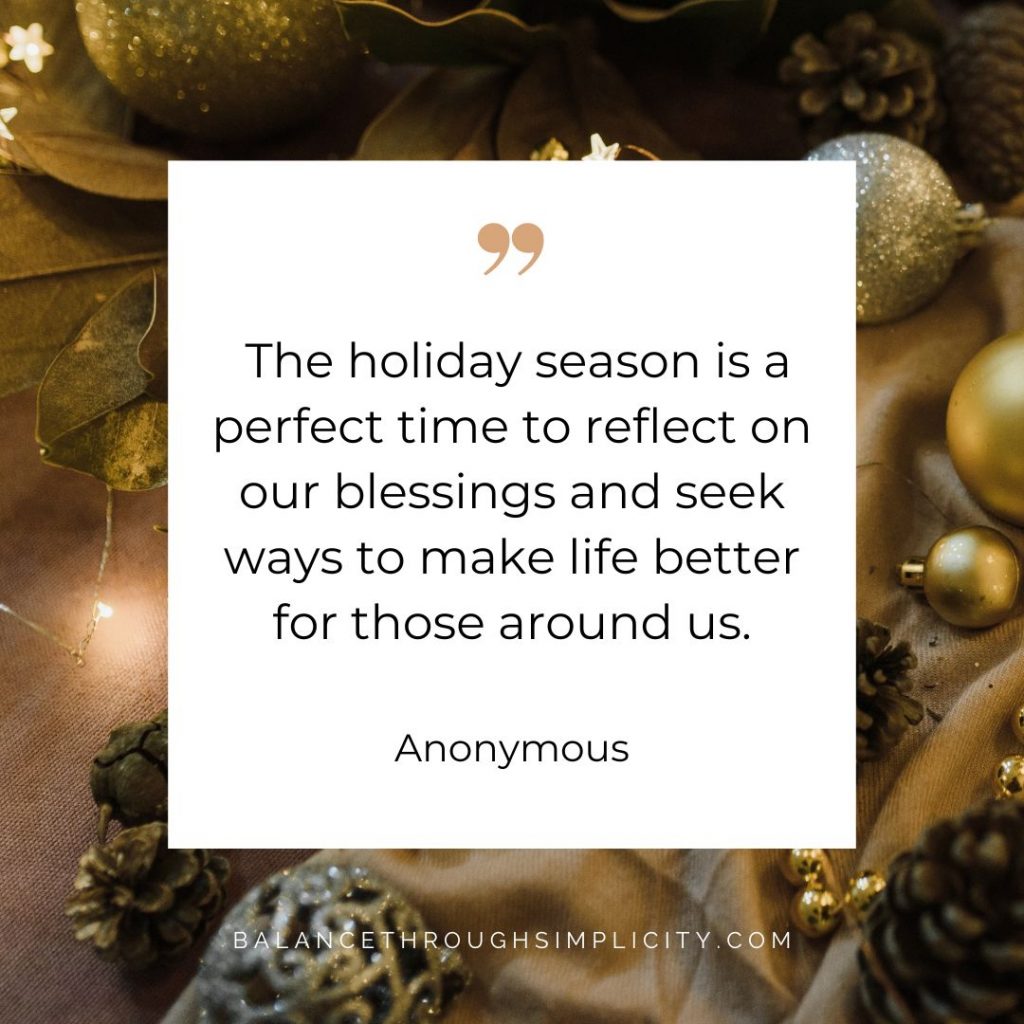 24. "The Christmas spirit is a spirit of giving and forgiving." (James Cash Penney)
25. "Christmas is a piece of one's home that one carries in one's heart." (Freya Stark)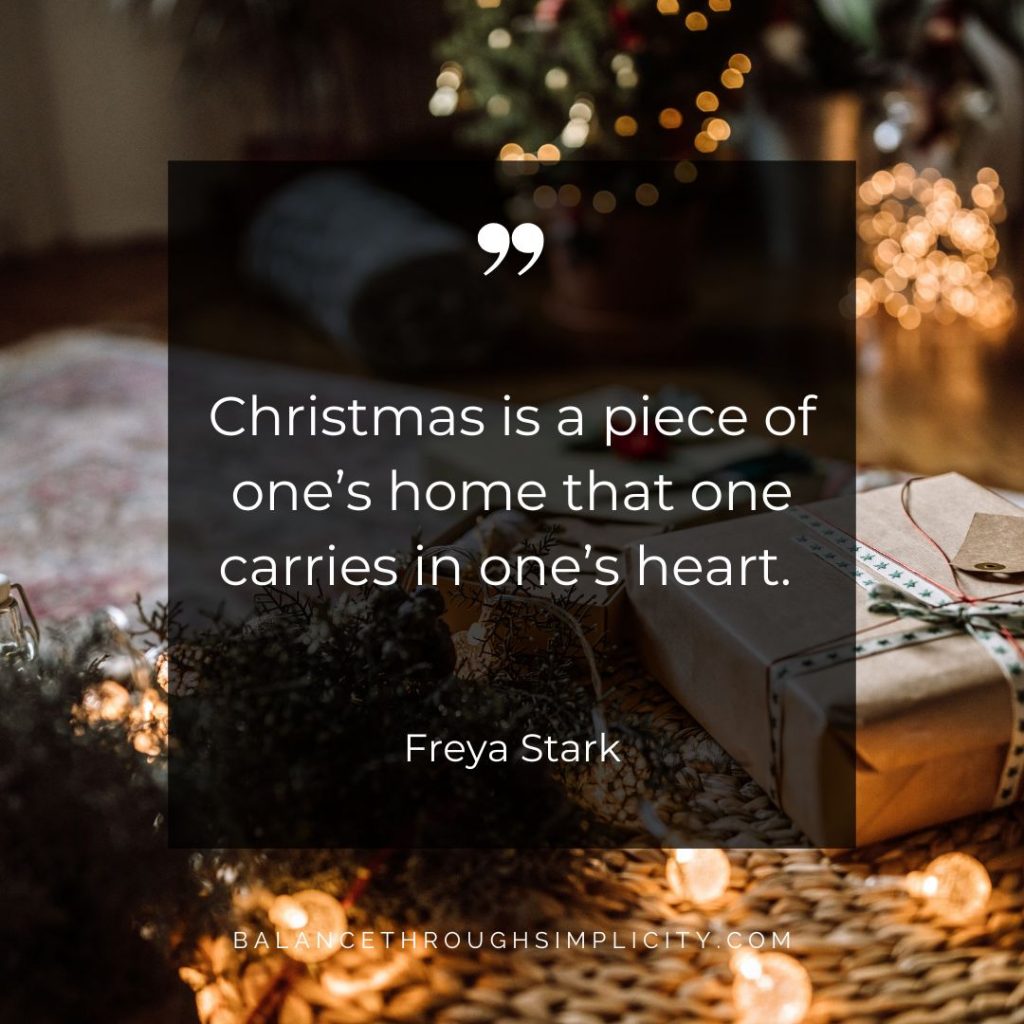 26. "Remember this December, that love weighs more than gold." (Josephine Daskam Bacon)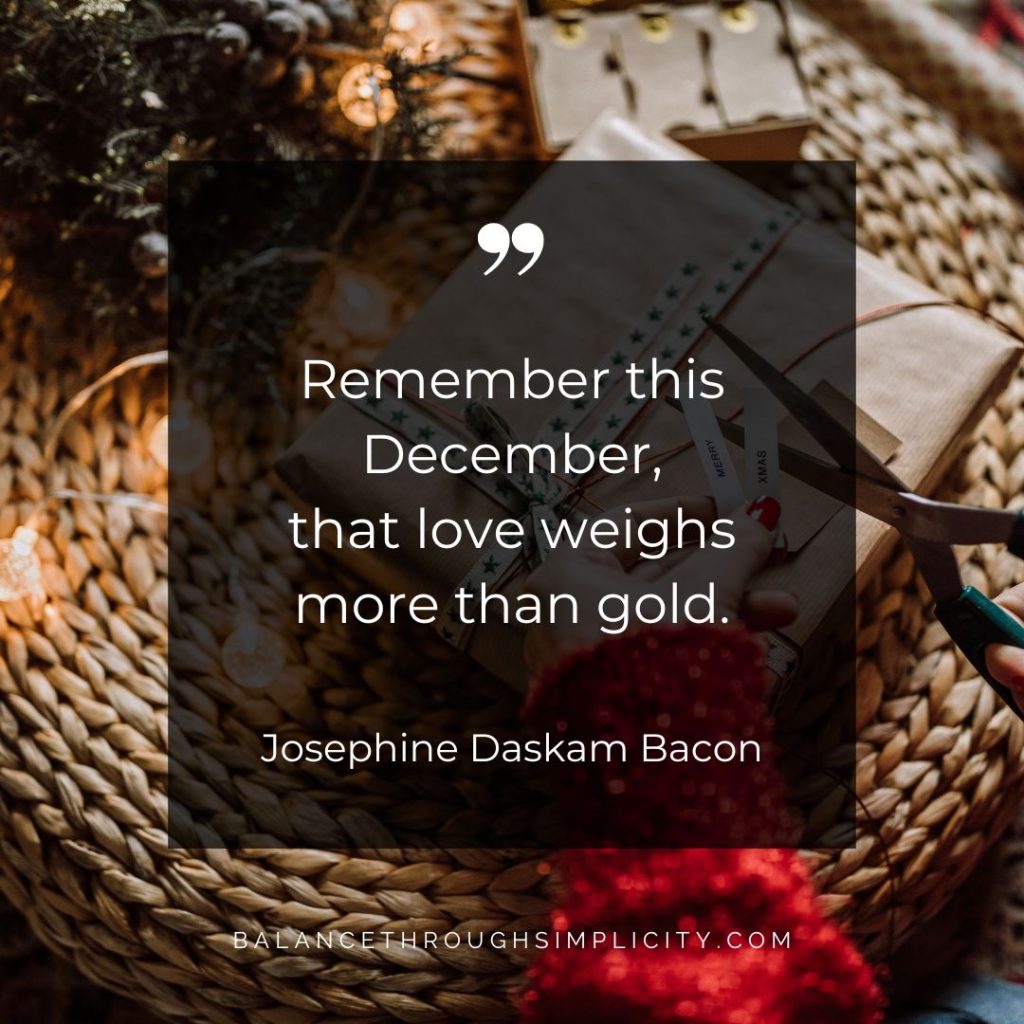 27. "We should learn the true Christmas lesson of gentle, thoughtful kindness to those we love and to all we meet in life's busy ways." (J. R. Miller)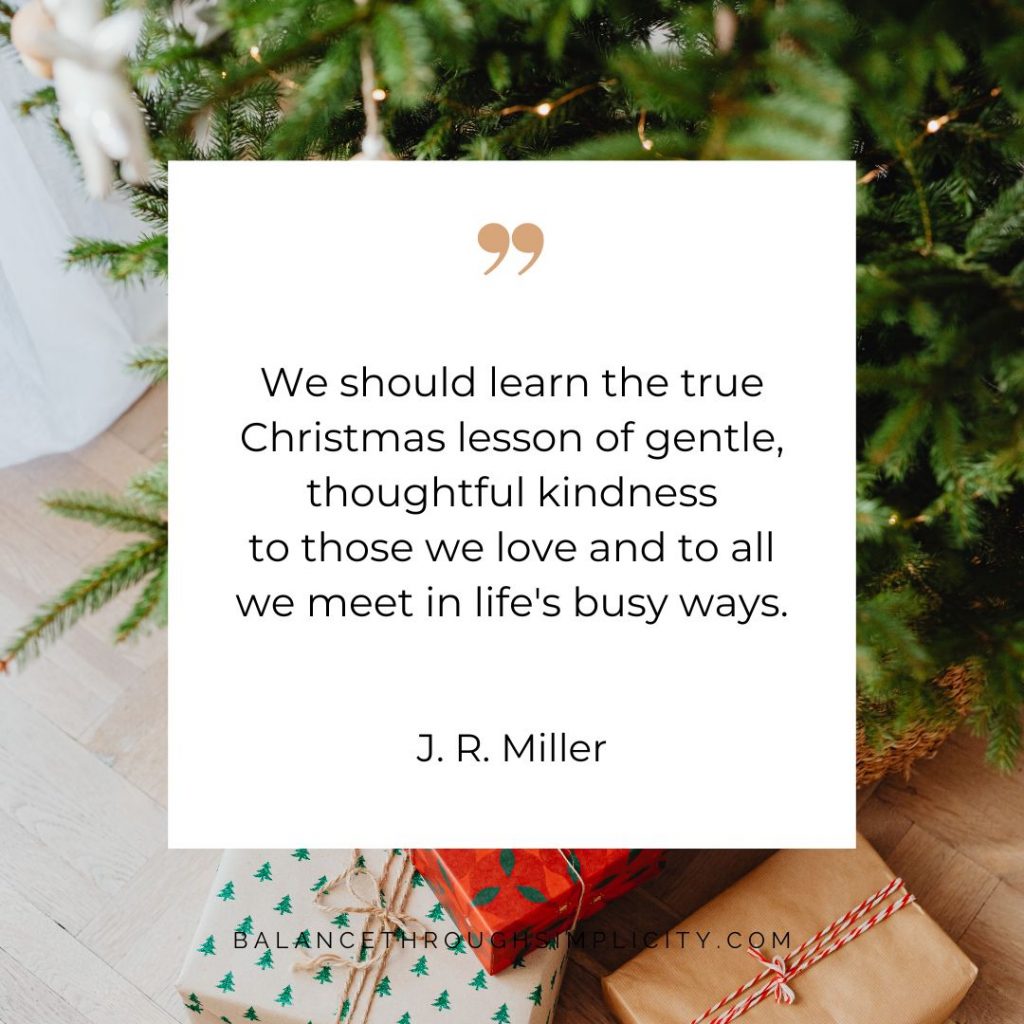 28. "Like snowflakes, my Christmas memories gather and dance, each beautiful, unique, and gone too soon." (Deborah Whipp)
29. "Love the giver more than the gift." (Brigham Young)
30. "The best of all gifts around any Christmas tree: the presence of a happy family all wrapped up in each other." (Burton Hills)
31. "Don't get caught up in the wrapping paper and forget that the gift of the Christmas season is simply love." (Toni Sorenson)
32. "Christmas is not a time nor a season, but a state of mind." (Calvin Coolidge)
33. "When we recall Christmas past, we usually find that the simplest things, not the great occasions, give off the greatest glow of happiness." (Bob Hope)
34. "I don't think Christmas is necessarily about things. It's about being good to one another." (Carrie Fisher)
35. "Christmas isn't a season. It's a feeling." (Edna Ferber)
36. "During the holiday season, in fact all year long, wrap yourself around another's presence, not presents." (Christine E. Szymanski)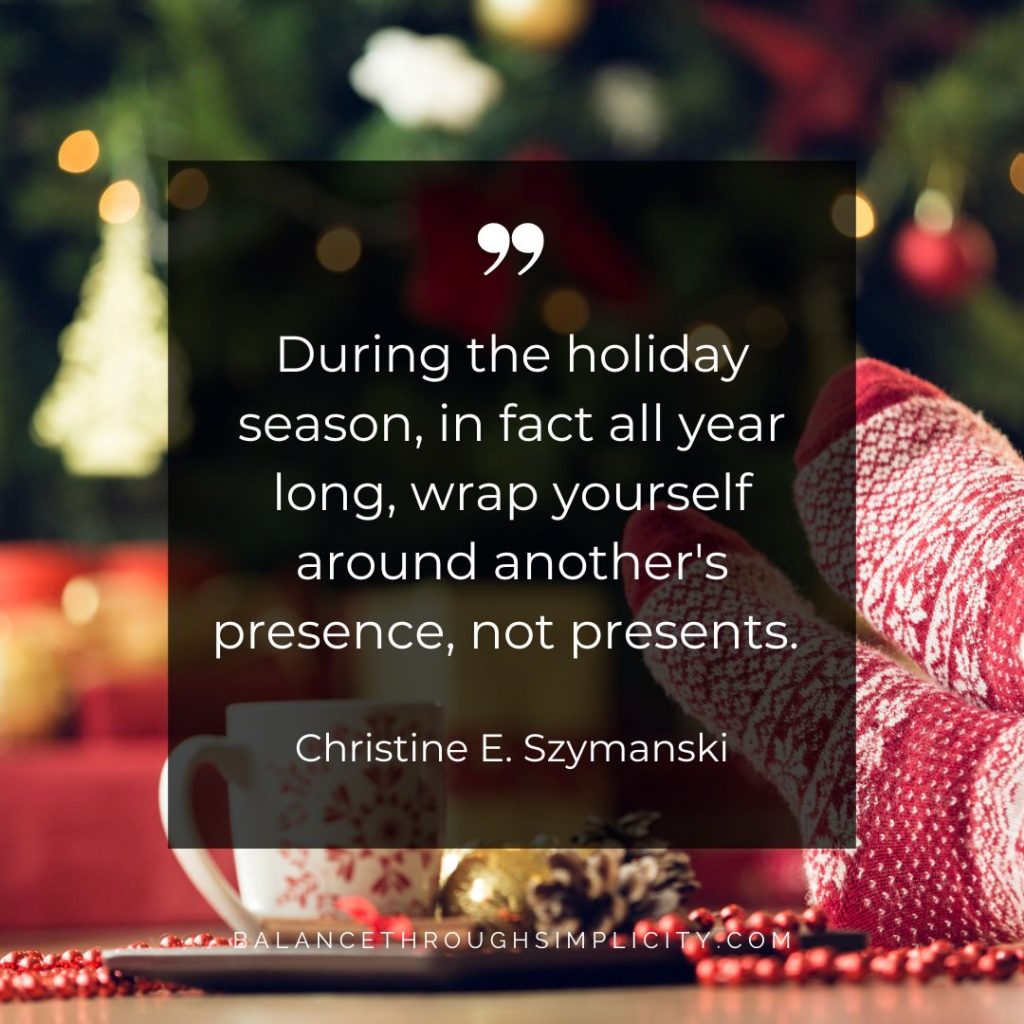 37. "Christmas is doing a little something extra for someone." (Charles M. Schulz)
38. "There has to be at least one day of the year to remind us that we're here for something else besides ourselves." (Eric Sevareid)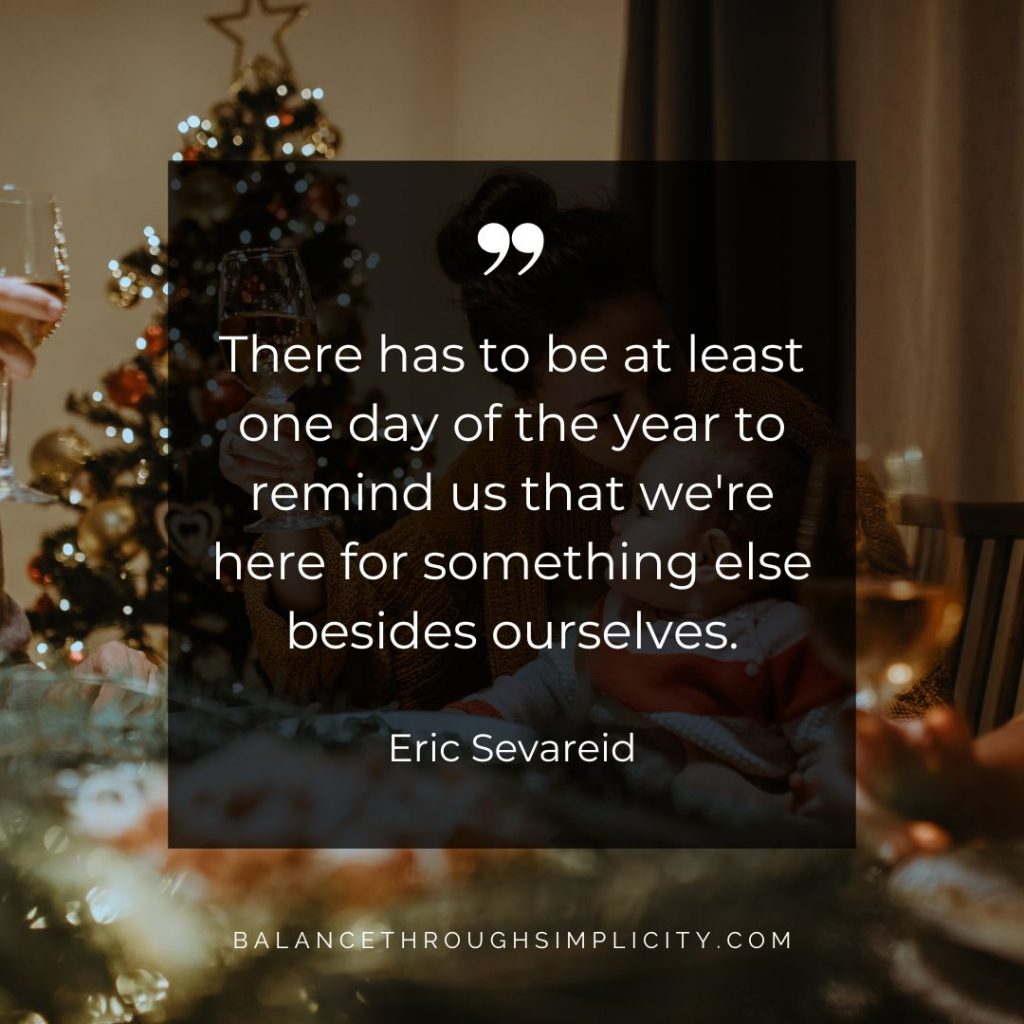 39. "Maybe Christmas, he thought, doesn't come from a store. Maybe Christmas, perhaps, means a little bit more!" (Dr. Seuss)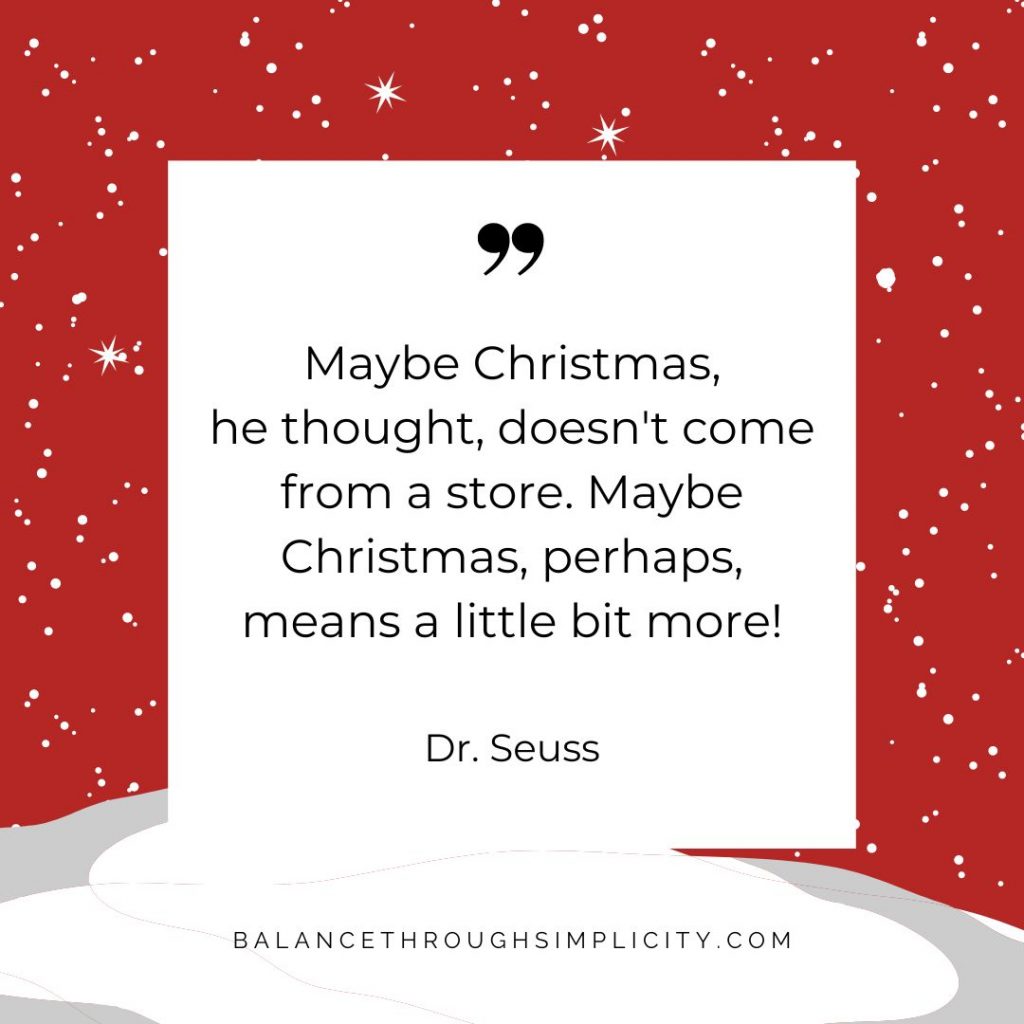 40. "My idea of Christmas, whether old-fashioned or modern, is very simple: loving others." (Bob Hope)
41. "Christmas is forever, not for just one day. For loving, sharing, giving, are not to put away." (Norman Wesley Brooks)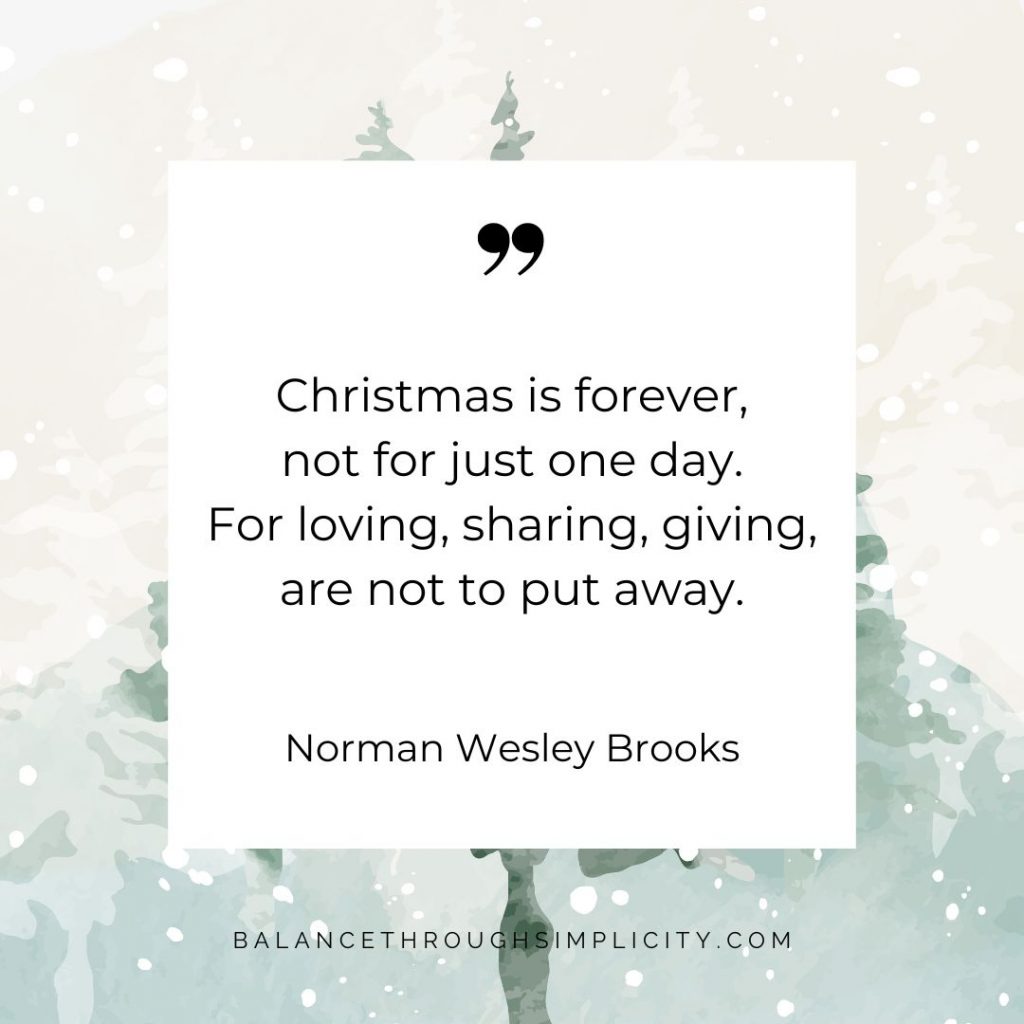 MORE RESOURCES TO HELP YOU SIMPLIFY CHRISTMAS AND THE HOLIDAYS
Here are some more articles and resources to help you enjoy a simple, meaningful and memorable Christmas this year.