30 THINGS TO ORGANISE AND PLAN FOR CHRISTMAS AND SIMPLIFY THE HOLIDAYS
To ease the stress and simplify the holidays, here are 30 things to organise and plan for Christmas. Simplify the holidays so you can enjoy the magic of Christmas in a way that feels right to you. There's also a free Simple Christmas Planner you can download too!
PLANNING FOR A SIMPLE CHRISTMAS
Whilst I'm all for enjoying the excitement and lead up to the holidays, if I'm honest, I often find it overwhelming. The shops are stocked with festive goodies months before and for weeks we're bombarded by adverts telling us to spend more, do more and have more. My diary and to do list are filled with errands, things to remember and places to be. By the time Christmas actually comes around, I'm often a little worn out to say the least!
Whilst Christmas is a wonderful time of year and I'm very grateful to have food on the table, presents under the tree and family and friends to share it all with, I particularly love Christmas when it's organised, planned and simple. It's lovely to enjoy the time with my family and friends and spend the festive season in a way that feels and means the most to me.
With this in mind, I'd like to share a little list of 30 things to organise and plan for Christmas. I think planning and organisation are key to making life simpler in many ways and Christmas is no different. I hope they give you some ideas and tips on how to get yourself ahead for Christmas this year and make your holidays a little less full of stress and a lot more full of calm and seasonal cheer!
30 THINGS TO ORGANISE AND PLAN FOR CHRISTMAS
Let's simplify Christmas and make the holidays full of love and laughter instead of you running around trying to do 'all the things'. Here are 30 things to organise and plan for Christmas. It's not a definitive list but I hope it gets you thinking about ways you can simplify Christmas for you and your family by planning and preparing a little beforehand.
1. Write Christmas cards
Buy your Christmas cards, write and post them before the Christmas postal deadline. If you're not sending postal cards, think about sending digital cards by email and create a list of who you'd like to email. So often we rush to write our cards (or emails) at the last moment and don't have time to share any news and updates. Start writing your cards in advance, take time to include a thoughtful message and knock it off your To Do list well in advance!
2. Make your own Christmas cards
Encourage the kids to make their own Christmas cards to send to family and friends. Gather up some crafting supplies and spend a quiet afternoon or two away from the screens with card and colouring pens. Put on some festive music in the background and get some cookies baking for a festive snack!
3. Letters to Santa
Encourage and help the kids write letters to Father Christmas saying how good (or naughty) they've been all year! Think about what you've been up to this year, the highs and the lows and what memories come to mind. It's a great way of building up the anticipation towards Christmas and practicing gratitude for all that we have.
4. Gift wish-lists
Come up with a Christmas wish-list of gifts you and the kids would like to receive. It will make it easier for those who want to buy gifts and to avoid receiving things you don't really want! For your children, encourage them to think about what they'd really like and use not just something they've seen in an advert which looks good but won't get played with for more than a day or two.
If you're trying to reduce clutter in your home then think about clutter-free gifts and consumable options such as art and craft supplies for your kids or food, drink and bath/beauty products for yourself, for example, which will get used up.
5. Budget for gifts
Decide on a budget for how much money you're going to spend on presents and stick to it! Keep a look out for special offers and take advantage of them. This is where it can help to have a list of presents you need to buy and for whom so you're not stuck in the shopping aisle racking your brains on what you could buy for who! When you go shopping, consider taking just enough cash for the presents you want to buy, rather than relying on debit or credit cards where you could easily over-spend.
6. Budget for food and drink
Create a budget for how much money you're going to spend on food and drink and stick to it! Once again, if you're shopping in person rather than online, take cash instead of cards. If you're shopping online, don't forget to keep an eye on the total and don't go above your budget.
7. Gift-giving
Decide how many presents you're going to give to each child and what combination. Will it be one big one and a few smaller ones or lots of little ones? Who else in your family, circle of friends or in your life (neighbours, teachers etc) would you like to buy a gift for? Make a list of who's to receive a gift, how many and what you'd like to buy for them. Keep that list handy and tick it off when you've bought it.
8. Meal-plan
Do a meal plan for all the meals you'll need to cook including snacks and any party food. Bear in mind that you might have the big and important meals such as Christmas Eve, Christmas Day and New Year's Eve, but you've also got quite a few other meals including breakfast, lunches and dinners (and snacks) in between. You might find it helpful to use a calendar which covers the holiday season and go through your meals day by day.
9. Ordering food
One of the really good ways I organise and plan for Christmas is to order as much food online as you can. Bear in mind home delivery slots are often fully booked in the week or two before Christmas. I like to keep an ongoing shopping list on my phone or the front of the fridge. Whenever I remember something I need to buy or we run out of something, then I add it to the list. A visual list is far more reliable than relying on my brain when I'm quickly trying to place my online order and not forget anything vital!
10. Last-minute food buying
Make a list of any fresh food you're going to need to buy from the shops if you can't organise an online delivery near enough to Christmas before the food goes bad.
11. Meal timings
Make a plan for preparing the Christmas meal (and any other big meals or parties you're hosting). This way you'll know you have all the ingredients, can manage the timings and prepare as much in advance. Make a list of everything you need to cook and how you're going to prepare each, along with timings. Nothing worse than realising the turkey won't be ready at the same time as the rest of the meal because you didn't put it in the oven early enough! Don't forget to ask for help if you need it.
12. Cooking in advance
Prepare as much as you can when cooking for big meals. Make what you can in advance and pop it in the freezer if needed. Just remember to allow sufficient time to defrost it properly!
13. Buying presents
Order as many presents as possible online. Make sure you order in time for deliveries to arrive before the Christmas delivery deadline. For the presents you're going to buy in person, can you do this well in advance of Christmas so you don't get caught up in the scrummage of last-minute Christmas Eve shoppers (and run the risk of things running out in the shops)!
14. Wrapping supplies
Ensure you have sufficient gift wrap, tape and tags. I often use different wrapping paper for each of my children and my husband. This way it reduces confusion on which present is for who and I don't have to write too many gift tags! Get some spare cards and gift bags just in case. If you keep the colours neutral and without Christmas motifs or patterns then you can use them during the rest of the year too if you don't use them all at Christmas.
15. Wrap presents
Wrap everything in good time and don't leave it until the last minute! Instead of still having a mound of gifts to wrap on Christmas Eve, why not spend that evening doing something more relaxing! Think about where you'll store the presents, before they're wrapped and after. Keep them out of sight of curious eyes before they're wrapped by stashing them in the loft or under the bed. You don't want them cluttering up your home or your children rooting through them. Once they're wrapped, could you pop them under the Christmas tree?
16. Christmas tree lights
Check the Christmas tree lights work before you put them on the tree.
17. Declutter decorations
Declutter Christmas decorations, throw out the ones that are damaged and decide which ones you are putting up and where. If your home feels cluttered over the holidays then you might like to consider having fewer decorations. We opt for lights outside the house, a Christmas tree in the living room and a few extra candles and natural decorations like holly and pine cones in strategic places around the home. I switch out the cushions on the sofa for some fun and festive ones and lay out a couple of Christmas-themed cozy blankets. We don't go overboard but the decorations we do have out on display are special to us.
18. Decorate your home
Another integral part of how to plan and organise for Christmas is putting up those Christmas decorations. There are many ways to make your home Christmas cosy without clutter. As above, don't feel you have to put everything up, pick and choose your favourites. Let the kids know when you're planning on taking them down so they don't get disappointed (like mine do!).
19. Clear space
Get the house ready for Christmas. Give it a good clean and declutter any excess stuff (ready for the next influx!). Some good places to declutter before Christmas are the areas of your home which will get the most use. In our home that's the kitchen, entry way and the fridge and freezer. I also do a quick declutter of the bathroom (for any guests who might need to use it) and the toys (to make space for others that my children might receive as gifts).
20. Household routines
Keep on top of your usual household routines such as laundry, dishes, hoovering etc even if you only do a little bit every day. After all, people are here to see you, not your home! Here are some household routines to keep your home running smoothly, or try these routines to keep the clutter away.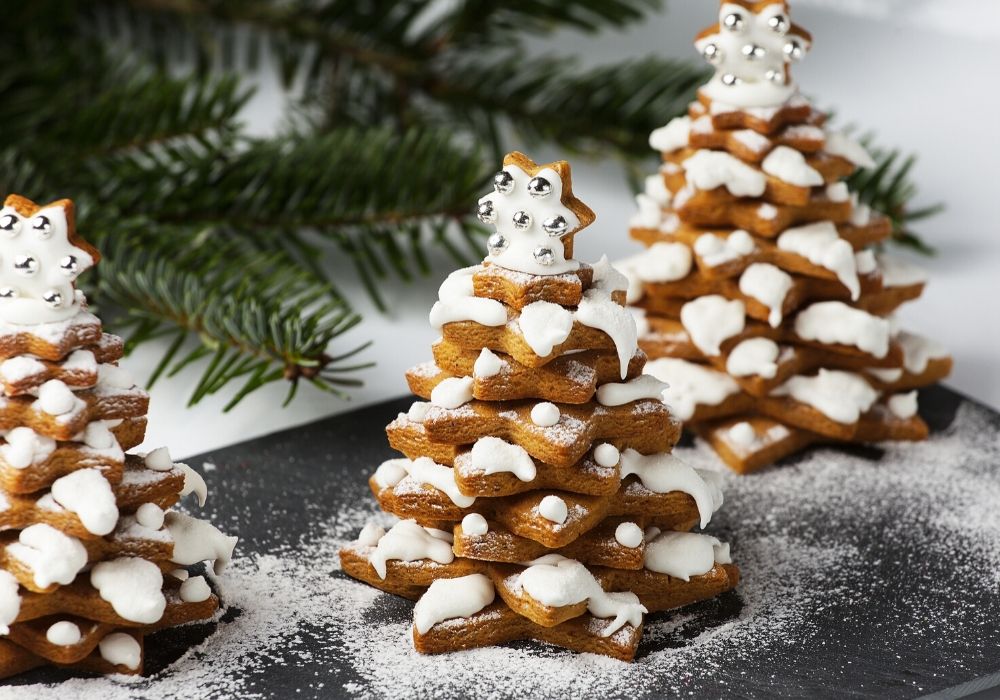 21. Emergency gifts
Have a stash of emergency Christmas presents. Handy in case you forget someone or you receive an unexpected gift and need something to return the favour with. I actually have a box in my home of emergency gifts of all kinds. These are little notebooks, or bath products or toys that I buy throughout the year and keep safe, just in case I need to give a gift that I hadn't expected! It also comes in handy if I haven't had time to run to the shops and I've forgotten a friend's birthday for example! I also keep a few spare blank cards and plain gift wrap for the same reason.
22. Simple Christmas traditions
Decide which Christmas traditions you're going to focus on and what you need to do for them. There are so many traditions that we try to participate in, often passed down through generations, that it can feel like a task list of its own to try and keep up with them all. This year, I encourage you to reflect on which traditions mean the most to you. Focus on these to build your memories around instead of the ones you feel you 'should' keep up. It's ok to change things every now and then if something's not working or feeling right. You might like to read about these simple Christmas traditions.
23. Christmas Eve
Think how you're going to spend Christmas Eve and buy anything you need. We tend to focus on Christmas Day, but for many people Christmas Eve is very special too.
24. New Year's Eve
Plan how you're going to spend New Year's Eve and buy anything you need. I sometimes get caught out because I think all my work is done when Christmas Day is over, but then my kids ask how we're going to celebrate New Year's Eve! So, make sure you know what you're doing and that you have everything you need.
25. Extra serving wear and dishes
Check that you have enough plates, serving wear, glasses and cutlery. You could borrow some from family or friends instead of buying more. Think about using recyclable paper plates and cups for parties to cut down on washing up and that are eco-friendly too.
26. Check the guest bedroom
Make sure you've got clean bedding and towels for any guests that might be staying over. Check the guest bedroom and clear any clutter that might be lurking if that room doesn't get used much. Pop some flowers or some chocolates in the room to make it feel inviting.
27. Get super-organised
Put all these things to do and important dates on a calendar so you can see what you need to do and when. No need to leave everything to the last minute! Check your calendar regularly or set up some reminders to ping off on your phone.
28. Keeping the kids busy
Plan Christmas arts and crafts for kids to keep them busy and build on the festive fun! There's loads of inspiration on the internet and particularly on Pinterest which would be great for a quiet afternoon or when the weather's not very nice.
29. Thank you letters
Keep a list of Christmas presents you received so you and the kids can write thank you letters. I'm not sure how many people actually write thank you letters these days but it's one of our traditions that I'd like to keep up.
30. Declutter your home
Declutter your home so you have more space and less to clear and tidy at Christmas. Try this list of 100 things to declutter right now or this 30-day declutter challenge. You might not become totally clutter-free but do what you can. Make sure everything has a home, is returned to that home at the end of the day or after you've finished using it and make a pact with yourself to donate, recycle or throw away one thing at least every single day between now and Christmas.
MORE RESOURCES FOR A SIMPLE CHRISTMAS AND HOLIDAYS
I hope you enjoyed this article on 30 things to organise and plan for Christmas and that you found it helpful. Here are some other articles and resources to help you simplify Christmas and the holidays:
DON'T MISS OUT!
I'm Antonia and on this blog I share practical inspiration to simplify your home, time and life. Follow me on Instagram, Facebook and Pinterest! You can also subscribe to Balance Through Simplicity and receive regular simplicity tips straight to your inbox for free. Make sure you never miss an article plus you'll get a copy of my free Declutter Starter Kit as a welcome gift!