30-DAY PERSONAL GROWTH CHALLENGE
A clutter-free, simplified life isn't an empty life. It's a life that creates space for you to grow. Take my FREE 30-day challenge to help you identify your goals, plan your priorities, set direction and live a life of purpose.
WHY PERSONAL GROWTH IS IMPORTANT
I believe we're all put on this planet to make a difference. It doesn't matter whether that difference is big enough to change the world, or small enough just to affect one life – our own, but we all have an impact, like it or not. So, let's try to make that impact the most positive and beneficial it can be, for ourselves and the ones we love.
When we get caught up in our day-to-day we sometimes don't have time, energy or inclination to take stock of where we are.
Are we happy? Fulfilled? Motivated? Inspired? Or are we trying to navigate life like it's a force 10 gale? Head-down, teeth-gritted, don't look sideways, don't get blown off course…
It's very easy to feel like you're battling the elements when you're just trying to get through the days and weeks.
Yet spending some time being intentional about your direction, priorities and purpose will motivate and inspire you to take positive action that really supports you and your life.
Your personal growth is important. It helps you focus on the different areas of your life that keep you moving forward, including:
Your goals, ambitions and hopes for the future
Your emotional, physical and psychological health
Your systems, habits and routines that support you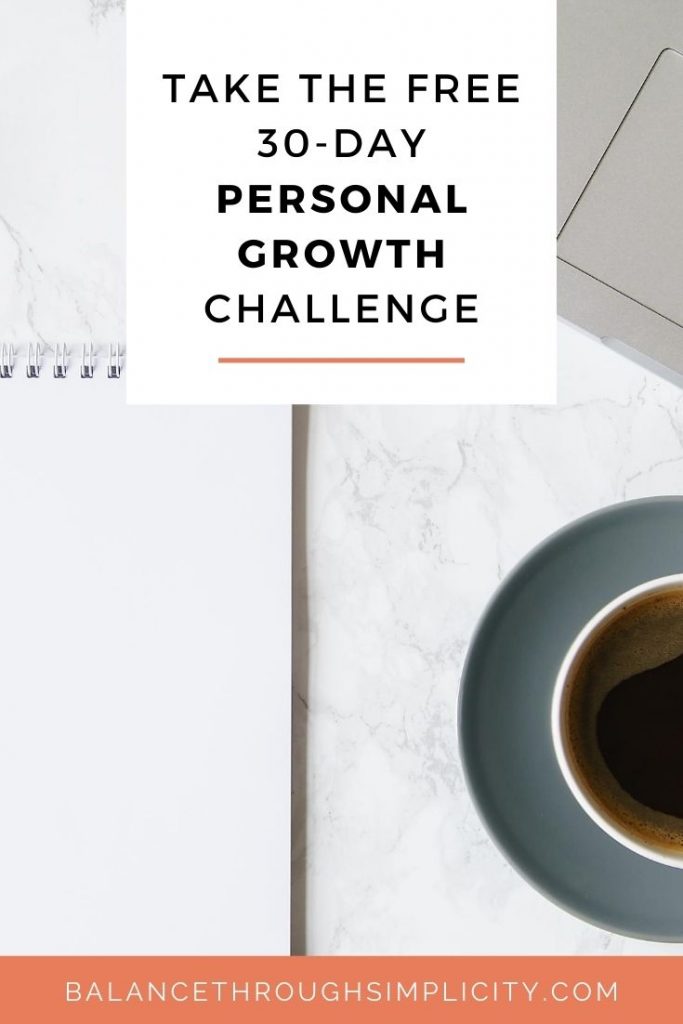 HOW THIS CHALLENGE WORKS…
This challenge will help you identify key areas of your personal development to work on.
With a series of daily prompts and activities, you'll be asking yourself some important questions about different aspects of your personal development and growth and taking action!
If you find one of the days difficult, take a break and come back fresh tomorrow. There's no rush!
The purpose of the challenge is to help you explore what you want out of life and how you can start to make that happen!
I hope it also encourages you to identify any areas of your life that perhaps you're not so happy with or things you'd like to change or develop.
Are you ready?
30-DAY PERSONAL GROWTH CHALLENGE
Over the next 30 days, just take one day at a time and reflect on the question prompts. You could mull the question over in your mind as you go about your day, or sit with pen and paper to journal your thoughts and explore them.
Day 1: Make your bed as soon as you get up to prepare yourself for the day. What else can you do to get ready for the day ahead?
Day 2: Tidy your desk to be more productive and efficient. Make a note of what tasks you've got to do today.
Day 3: Get some exercise, even just a walk in the fresh air. Is exercise a regular part of your daily routine or does your self-care get side-lined?
Day 4: How are you feeling today? Happy, energetic, sad, anxious, frustrated etc? A healthy, positive mindset is key to many things.
Day 5: Today, try to meditate for 5 or 10 minutes and make a note of how you found it. Practice being able to focus and be present.
Day 6: Find some quiet time to listen to your thoughts in silence and write them down. The outside world is noisy and often drowns out our inner world.
Day 7: What are you most grateful for today? Gratitude can turn a bad day on its head. Stop chasing, perhaps you have what you need already?
Day 8: Catch up on the news, even just skim the headlines, so you feel informed. Know when to switch off too!
Day 9: Read some of your book, even just a page if you don't have much time. Reading both calms us and inspires us.
Day 10: Clear your emails and make a note of any action points or things to do. Your inbox can become cluttered without regular maintenance.
Day 11: What 3 things do you need to get done today? Keep your list simple and strategic. Get them done, tick them off.
Day 12: What calendar commitments or appointments do you have coming up in the next month? Does it feel right or too much?
Day 13: What is your financial situation and how do you feel about it? Do you manage your money well or are you struggling with debt and store cards? Be honest with yourself and seek advice if you need it.
Day 14: What are you most proud of yourself for? List a few things.
Day 15: What are your 3 greatest skills? What makes you, you?
Day 16: Think about 3 areas of yourself that you'd like to work on. Can you do one thing this week to move that forward?
Day 17: Identify 3 ways you can develop your job/career starting today! Make a plan…
Day 18: What is one hobby/leisure interest or new skill you'd like to learn? How can you create time to make that happen?
Day 19: Where would you like to be in 1 year, 5 years' and 10 years' time?
Day 20: Three places you'd like to travel to or visit are…? It's always nice to have something to look forward to and plan for.
Day 21: What limiting beliefs or fears have been holding you back? Can you find ways to address them?
Day 22: Think about signing up for a new online course or free challenge to increase your learning.
Day 23: One way you can take yourself out of your comfort zone this month is…?
Day 24: One person you admire is…? Why do you admire them? Is it what they have, look like or is it a personal characteristic or set of values?
Day 25: What one thing have you been afraid to do up until now and why? Is it holding you back from anything?
Day 26: Your biggest dream or ambition is…? Have a plan, turn a dream into a goal.
Day 27: What do you want MORE of in life? Time, freedom, love, direction, purpose, happiness?
Day 28: What do you want LESS of in life? Stress, bad work/life balance, arguments, resentment, debt?
Day 29: What do you want to achieve this year? Go on, make a list. Be as specific as you can.
Day 30: What makes you feel happiest and most fulfilled? What makes you smile, laugh and most excited for the day ahead?
YOUR NEXT STEP?
I hope you enjoyed this little challenge and it helped you explore your life and what's important to you now and for the future.
You might like to revisit some of the questions every now and then and see what answers come up for you? It may change over time!
Many of the activities and prompts I suggested to you were designed to help you find ways to live a simple, but full life. A life that's full of purpose and direction and which honours the things that are important to you.
If you felt a little unsure about what you do want, or how to make that happen, then my free little course, Your Intentional Life, could be just what you need! Click here to learn more…or pop your details in the box below to join now!.