CLUTTER-FREE GIFT IDEAS FOR MOTHER'S DAY
In this article I'm sharing some clutter-free gift ideas for Mother's Day. Thoughtful gifts to show your love and appreciation, without adding clutter to your home.
CLUTTER-FREE GIFT IDEAS FOR MOTHER'S DAY
Each year we celebrate Mother's Day. For some it's a day of pleasure and excitement, for some it's a day of sadness and difficult memories.
In this article, I'd like to share some thoughtful clutter-free gift ideas for Mother's Day. I've picked some minimalist gift ideas for mothers to show our love and thanks for all that they do, but without adding clutter to our homes and lives.
Each mum is different so choose a gift or gifts that would benefit your mum the most. Mother's Day often comes with a load of hype and expectation and this, inadvertently, can cause us stress and pressure as we try to make Mother's Day live up to expectation.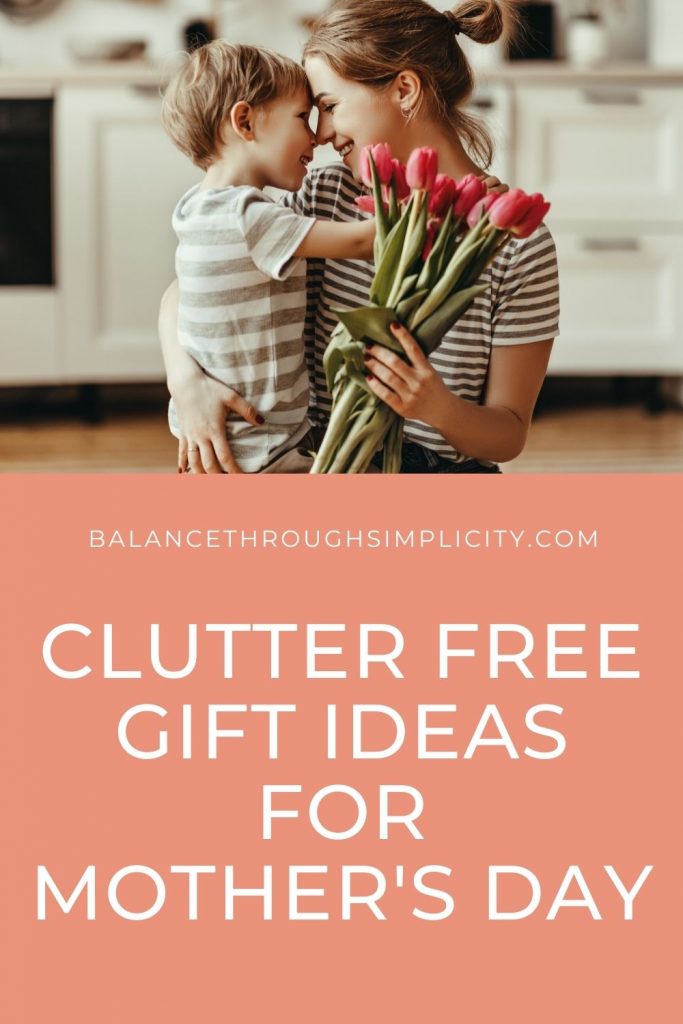 MOTHER'S DAY GIFTS THAT WON'T ADD CLUTTER
Here are some minimalist gift ideas for Mother's Day. I hope they give you some inspiration!
1. Rest and relaxation
Mothers don't get a lot of this generally, so give them a day where they don't need to do or be anywhere in particular. Postpone or cancel plans, keep the day free from too much rigid structure and be flexible about what you do and when you do it. Prioritise rest, naps, relaxing and a slow pace to the day.
2. A day doing mum's favourite things
See if you can create a day full of your mother's favourite things – a walk, trip to the cinema, a coffee and cake at the local coffee shop, lunch at her favourite restaurant, movie night watching her favourite actor/actress/film.
3. A consumable gift
Consumable gifts are a great minimalist gift idea for mothers who love receiving a gift but don't want extra clutter in their homes. Examples of consumable gifts could be:
Something to eat such as luxury chocolate, artisan biscuits, a home-baked cake
Something to drink such as a special tea, coffee or bottle of wine
4. Bath and beauty products
Mothers often put themselves to the bottom of the priority pile, so this Mother's Day why not offer a little opportunity for pampering? Bath and beauty products (and the time to enjoy them) are always a good option for busy mothers who'd like a little spa-from-home treatment. The bonus is that they also won't clutter up your home as once the bottle is used up, it can be recycled.
5. Make-up and perfume
Make-up and perfume as a clutter-free Mother's Day gift is also a great idea if you know your mother's favourite brand/colour etc. Once again, they won't clutter up the home once they're used up!
6. Flowers
Fresh flowers are a lovely way to bring colour and scent to the home and not something that mothers would necessarily treat themselves to very often!
7. Subscriptions
Subscriptions can be a really practical and clutter-free minimalist gift idea for mothers. You could explore subscriptions to various online services such as Blinkist, Audible, Spotify etc. (Note: I'm not an affiliate but wanted to mention them because I like them!)
8. A massage, manicure/pedicure
A little bit of clutter-free pampering for busy mothers who don't normally have the time or feel guilty for doing something just for themselves. Pay outright or give them a gift card or voucher to choose their own pamper session!
9. Special time with loved ones
As a busy mum with more than one child, I know how difficult it is to find one-to-one time with my kids. It's easy to feel guilty that you don't have the spare minutes to spend quality time with each child and give them your undivided and uninterrupted attention. A great, and very special clutter-free Mother's Day gift idea is a 'date' with each of your children.
10. Help with housework
Again, from first-hand experience, I know that getting help with housework can feel like banging your head against a brick wall. Although my kids are much better at helping out (thanks to encouragement, perseverance and the odd bit of bribery!), it would be lovely if they volunteered to help out around the home without me asking. Why not surprise your mother this Mother's Day by offering to vacuum, shop for and cook dinner and do the washing up afterwards?
11. A lie-in and breakfast in bed
A lie-in is a rare thing in our household because I like to get a head-start on my day instead of my day having a head-start on me! But, what about offering your mum a lie-in and breakfast in bed whenever she's ready?
12. Write a letter to your mum
We don't always tell our mothers how much we appreciate and love them. Today might be a good day to write a letter to your mum explaining how much she means to you, why she's amazing and special.
13. Clean her car
I spend a lot of time in my car, doing the school run, ferrying my kids to play dates and after-school activities. This time in my car is a lot more pleasurable if my car is clean and tidy and nice to spend time in. Perhaps this Mother's Day you could clean your mother's car?
14. Offer your help
Is there something that your mother struggles with or spends a lot of time doing? Offer your help to do the weekly ironing, walk the dog, make a cup of tea, put the laundry away.
MINIMALIST GIFT IDEAS FOR MOTHERS
I hope you enjoyed these ideas for a minimalist Mother's Day and I hope you have a wonderful Mother's Day if you're a mum yourself.
I think many of us would agree that having time to rest, relax and spend quality time with our family, without the usual demands of busy family life is one of the best gifts we can receive!
MINIMALIST GIFT IDEAS
For more ideas on minimalist gift ideas, here are some helpful links:
DON'T MISS OUT!
I'm Antonia and on this blog I share practical inspiration to simplify your home, time and life. Follow me on Instagram, Facebook and Pinterest! You can also subscribe to Balance Through Simplicity and receive regular simplicity tips straight to your inbox for free. Make sure you never miss an article plus you'll get a copy of my free Declutter Starter Kit as a welcome gift!