HOW TO MAKE YOUR HOME A SANCTUARY
I wanted to share some ideas on how to make your home a sanctuary from the busy outside world. Here are some tips to help you create a calm, cosy and inviting haven where you can rest, reset and recharge.
WHY OUR HOME IS IMPORTANT
Our homes are important. They can be the hub of family life, a retreat and safe place where we can hopefully feel comfortable and relaxed. They can be the setting for the ups and downs of life and where we can rest and recharge before we head back out into the outside world.
We can express ourselves at home through colours, décor, furniture, accessories, scent, lighting and our homes often reflect our own personal sense of style, whatever that may be.
In this article I'd like to share some ideas on how to make your home a sanctuary to nourish body and mind and support you through everyday life in a way that feels right to you.
WHAT IS A HOME SANCTUARY
I wanted to explain a little more about what I mean when I say home sanctuary. Our homes have to work hard for us but I also like to think they're a calm, relaxing and restful environment for when I've finished being in the outside world. I'm definitely a homebody and introvert and I love spending time at home on my own or with others. My home is probably my favourite place and I enjoy looking after it as best I can with the time, energy and resources I have available.
That being said, I don't enjoy doing chores and cleaning so I've created a home that's easy and quick to manage but that's still lovely to be in, for me anyway! That doesn't mean I've spent a lot of money on it, we don't have the budget for that, but I've made a few changes to create the feeling of a sanctuary that calms my busy brain and body.
I'm also a Highly Sensitive Person (an HSP) which means I'm very affected by my external surroundings so I like to create a home that's easy on the mind and the eye. I juggle work and family so my home is also easy on my energy and time as well!
A sanctuary for me is somewhere I can have fun, rest, relax, read, enjoy family and friends, hobbies and that I enjoy coming back to and going out from. For me, home is truly where the heart is.
If you feel the same, then you might find these ideas on making your home a sanctuary helpful too!
MAKING YOUR OWN HOME SANCTUARY
Before you start making any changes to your home, I think it could be useful to do a couple of things.
1. Decide what a home sanctuary would look and feel like to you
The idea of what makes a home feel special is different from person to person. Some of us might like floral patterns and bold design, others may prefer a neutral palette with clean lines. What would you like your home to look and feel like?
I've shared some journal prompts for decluttering which you might find helpful to get a clearer picture of what a home sanctuary might be for you. Is it somewhere peaceful and restful, calming on the eye and the mind? Or is it somewhere that's fun, colourful, a little eclectic? Perhaps it's cosy and intimate, or less fussy with a more minimal aesthetic? There are no right or wrong answers here so it's very much personal choice how you want your home to look and feel in order to be your very own sanctuary and protected space.
2. Consider how your home looks and feels right now
To help you hone down on what you'd like your home to feel like as a welcoming retreat from the outside world, think about how your home looks and feels like right now. If it doesn't feel like a sanctuary, do you know why not? Can you pinpoint specific areas that you don't like, don't want to spend time in or that stress you out? What is it about these areas or what do you have to do in or to them that make you feel like this? It's helpful to understand your starting point so you know what direction to take next!
Having armed yourself with some answers to the questions above, here are some ideas on how to make your home feel more like a sanctuary and haven you love to spend time in.
HOW TO MAKE YOUR HOME A SANCTUARY
Here are some tips on how to make your home a sanctuary.
1. Declutter your home
Firstly, I think our homes are much more calming and easier to look after when there's less clutter to clear away, tidy up and clear around. Not only does less stuff mean you have more space, but it also saves time cleaning and makes your home feel less of a burden and drain and more of a haven. There are so many benefits of a decluttered home to your body and brain too that it will make your home feel like more of a sanctuary than a source of stress. Try to get rid of stuff that you don't want or need, be on the look-out for clutter creep and hidden clutter that lurks out of sight but still clutters your home. Try this 30-day Declutter Challenge for some daily decluttering projects over the next month. Decluttering itself is also a helpful mindfulness practice to bring you to the present.
2. Do some research
Aside from decluttering, before making any radical changes to your home such as repainting or changing the décor, it may be a good idea to do some research. Use Pinterest, social media or even magazines to explore ideas for your own home. You could create a kind of mood board (or set up your own board on Pinterest). What would your idea of a home sanctuary look and feel like? Can you find some visual images to guide you and keep in mind about the look and feel you're trying to achieve. Even on a limited budget, with a few strategic changes, you might be able to achieve the look you're after once you've decided what that is!
3. Think about lighting
Lighting plays an important role in how our homes look and feel. You want sufficient lighting to be able to see what you're doing but not so much that the light feels glaring and harsh. Think about how you use different areas of your home and what lighting you need for these different areas. Perhaps choose different layers of lighting for different functionality. For example, ceiling lights for overall brightness, table lamps for softer light.
4. Consider your colour scheme
Different colours evoke different emotions so it's important to think about what sort of emotions you want to feel at home. If you're going for a calm feel, then perhaps softer and more muted tones might be better. But, if you love colour and it energises and makes you feel good, then you might enjoy some brighter, bolder colours. This is a great example of where it pays to do some research and really think about what you're trying to achieve before you go all out, buy the paint and start decorating!
5. Make it cosy
For me, a calm sanctuary is also a cosy place where I can cuddle up with the dog, a cup of tea and my book. There are many ways you can make a cosy home without adding clutter. It's about choosing your décor with care and making sure that everything you do include in your home is something that you really love to look at. Cosy décor just for the sake of it will soon clutter up your home and give you just more stuff to look after. Try these tips to make your home cosy without clutter.
6. Create a quiet corner
Sometimes our homes are just busy places, particularly if you have a busy family or you work from home or you're limited on space. If you have trouble creating a quiet, calm home generally then maybe you could focus on creating just a quiet corner? For example, it could be a small space in the corner of your living room or bedroom with a chair, a blanket, a table for your drink and book and a potted plant or flowers to bring calming nature in from the outside. Keep that area clutter-free and tidy and don't let it be invaded by anything that takes away from the calm and peace. A quiet corner might be your sanctuary if the rest of your home is too busy to tick that box!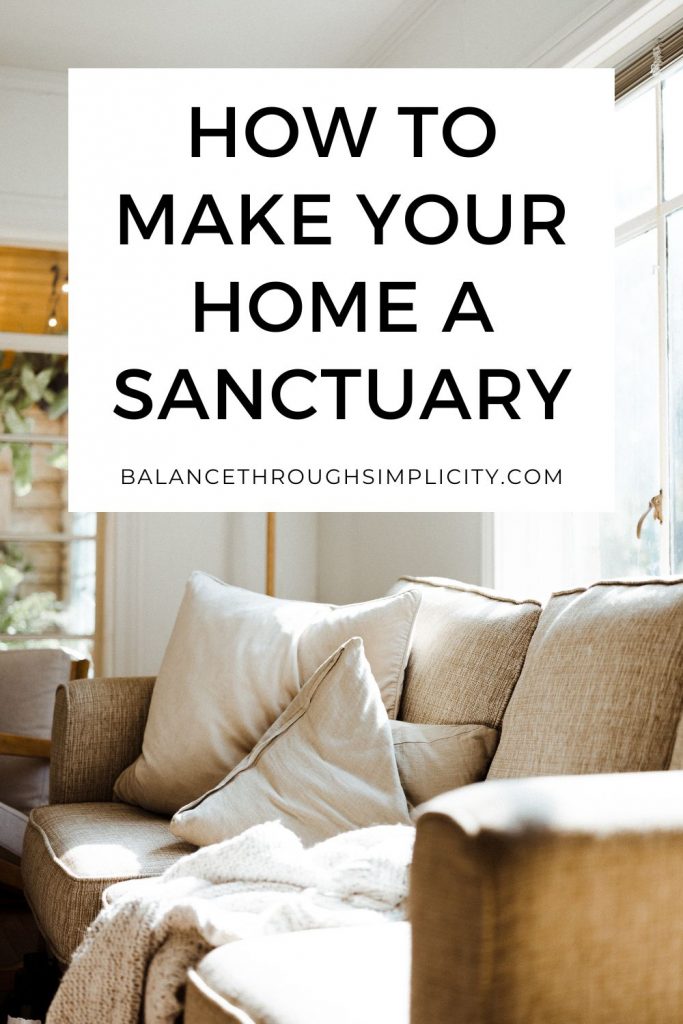 7. Pay attention to detail
My home feels like a sanctuary because I pay attention to detail. I don't mean that I'm perfectionist about my home but I like to have a place for everything and everything in its place. It's probably worth saying that that doesn't mean everything gets put away where it should. No way! I have kids (and a husband) so it's still a work in progress!
One example of paying attention to detail is that I like to have artwork on my walls but it's different sizes, shapes and colours. My daughter painted much of it and I love it. However, it sometimes gets a little eclectic and higgledy piggledy. So, to create a bit of consistency, I always use white frames which match my home décor style. They help bring all the different pieces of artwork together in a matching style. I feel this looks better on the walls and makes me happy. This may not bother you, I know, but it's just an example of how paying attention to detail can make your home feel more like a sanctuary rather than a source of niggle and stress!
A friend of mine likes to only have matching mugs, plates, bowls etc. This gives her joy so that's what she sticks with. What quirks do you have when it comes to your home? I'd love to know so leave a comment at the bottom of the article if you'd like to share!
8. Add meaningful touches
The example I gave above about my daughter's artwork in matching frames is also a good example of the next point – adding meaningful touches. I think a home feels more like a sanctuary when it creates feelings, emotions and memories. These things make us feel that home isn't just any home, it's our home. I love my daughter's paintings and over the years I've seen how her style and ability has developed. These pictures add meaningful touches to my home. They have huge, even priceless, value to me and I love to look at them whenever I'm passing.
9. Make use of special items
Whilst you're reading this, I wonder if you have some special items stuck in a cupboard somewhere that you're keeping 'safe' because they're too special to be used every day? Hands up! Mine are! However, I'm beginning to use my 'special' items more because we never know what tomorrow will bring. Today is a special enough day to bring out the best china, those luxury bath products, the beautiful skirt or the lovely perfume. Why isn't today special enough to treat yourself with something nice? Will tomorrow be any better? If these items are so special, why do we relegate them to a cupboard, unused and unseen? I'm getting comfortable with this myself as I was a great one for hiding the best and using the rest right now but home certainly feels more special when I can make best use of and appreciate my special stuff.
10. Consider your hobby and leisure interests
For those of us who have hobbies or favourite pastimes that we do at home, it's helpful to have a place where we can do them. Sometimes it's easier said than done, especially if you're limited on space, but if you can, think about your hobby and leisure interests when setting up your home. For example, if you like yoga then you might like to keep a clear space in a room for your mat. If you enjoy reading or journaling, you might like that cosy chair corner we mentioned earlier. If you like baking, it might be helpful to have all your baking equipment and ingredients tidy and accessible in the kitchen. It's really frustrating to not have what you need when you finally find time and inclination to do your hobby!
11. Keep your work area separate
More and more of us are working from homes but it's difficult to make your home a sanctuary when you're being reminded of your work. As far as possible, try to keep your work stuff separate. I've written more about how to organise your office if you work from home and there are several tips in that article on how to place boundaries between home and work (both physical and mental).
12. Limit screens and phones
For me, home feels like a sanctuary when I'm not hearing pings and buzzes from my phone. I try to keep my phone in one central place in my home instead of having it glued to me in my pocket. This way I can't reach for it out of habit and then get sucked into scrolling my feeds. Sometimes I don't reply to a message straightaway because of this, but if my family and friends really need to get hold of me, they know to phone. Here are some more tips for mindful use of your phone or how to be productive on your phone when you do have it to hand.
13. Evoke your other senses
A home sanctuary is not just about what your home looks like, there are other ways you can create a calm, peaceful atmosphere by encouraging your other senses too. Think about your favourite scents and whether you might like an air freshener, incense stick, candle or flowers. You might enjoy some background music too to encourage you to relax as much as possible.
14. Keep it clean and tidy
Last but not least, for me my home feels like a sanctuary when I'm on top of the housework and everything is put away. Mess on the floor, laundry piling up in the corner, a dirty bathroom and overflowing rubbish bins make me feel stressed out and frustrated. I don't mind cleaning, it even has some great mental health benefits, and I know that to enjoy a clean home I have to clean it, but I like to keep it clean and tidy with minimum effort for maximum results. Having less clutter is one way to spend less time cleaning but another is to establish some flexible routines for your chores and cleaning that you can stick to without really thinking about it. You might enjoy this free workbook to help you set up flexible routines in your own home.
SHARE YOUR THOUGHTS
I hope you enjoyed this article on how to make your home a sanctuary. If you have any ideas to add, please leave a comment as I'd love to hear from you!
MORE RESOURCES ON DECLUTTERING AND CREATING A CALM HOME
Here are some more resources on decluttering and creating a calm, peaceful home which you might enjoy: