25 IDEAS FOR A SIMPLE MORNING ROUTINE TO KICK-START YOUR DAY
A consistent morning routine can set you up for the day ahead and help you get physically and psychologically prepared for whatever that day has in store. Here are 25 ideas for a simple morning routine to kick-start your day on a positive, productive note.
WHY IS A MORNING ROUTINE IMPORTANT?
Have you noticed how that first hour or so in the morning can pretty much determine how the rest of your day will go, or rather your attitude to your day?!
"The first hour of the morning is the rudder of the day."

Henry Ward Beecher
If you wake up late, you're more likely to be irritable and stressed from rushing around and this can continue into the day. Everything might seem more difficult that day, more of a challenge and you'll feel down, overwhelmed or fed up.
If you wake up a little early, you've got time to get things done at an easier pace. You'll be more on top of things, better prepared and possibly more organised. Your day will feel easier, you'll be more receptive to good things that happen and better able to deal with any challenges.
Aside from your mornings often setting the tone for the rest of your day, a morning routine is really helpful in preparing you physically and psychologically for the day ahead.
HOW TO ESTABLISH A SIMPLE MORNING ROUTINE
Your morning routine doesn't have to be complicated. In fact, the more complicated it is then perhaps the less likely you'll be to follow it through consistently, day after day.
Before we look at some simple morning routine ideas, here are 4 little tips to help you put your own simple morning routine in place:
1. Start slowly
Below I've given you 25 ideas to include in your own morning routine. You don't need to do them all, just pick and choose what suits you. Start with one or two of the most appealing suggestions and see how you go with them over the next week. You can always add more into your morning routine if you have time and inclination.
2. Habit-stacking
When we're creating new routines, sometimes it's helpful to build on little daily habits that we already have in place. This process is called habit-stacking from the book Habit Stacking: 97 Small Life Changes That Take Five Minutes Or Less by S. J. Scott. To learn more about how it works take a look at this article from jamesclear.com.
3. Create a plan
Make the most of your time by having a plan. The plan can be flexible and can be different for the weekdays and the weekends.
Be clear on what you're going to be doing the next morning before you go to bed the night before. When you wake up, try not to get side-tracked by anything else and waste your time or you won't get the maximum benefit possible. Perhaps jot down some ideas in a notebook to keep you on track!
You could also get out the things that you might need in the morning, the night before (for example, a coffee, journal and your work-out clothes).
4. Get up, not just wake up!
Waking up is one thing but you actually have to get out of bed to complete your morning routine! Put your alarm clock out of reach so you have to get up, even if you don't feel like it.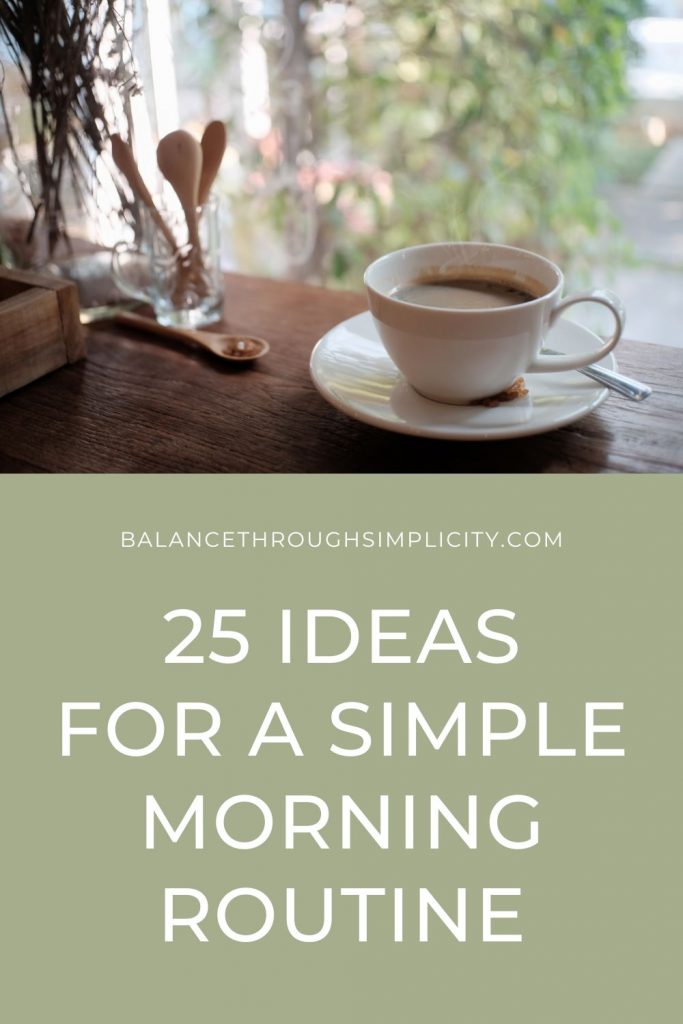 25 IDEAS FOR A SIMPLE MORNING ROUTING
Here are 25 ideas for activities you could include in your own simple morning routine. Pick and choose one or two to get started and see how they work for you. You can build more in when you feel comfortable…
1. Drink water
Drink water to help rehydrate you after you've been sleeping all night. I like hot water and lemon but I also drink tea (and lots of it!). That first cup of tea, enjoyed in peace and quiet, whilst everyone is sleeping is the best cup of my day!
2. Meditate
Practice meditation to encourage gratitude for what you have and positivity for the day ahead. YouTube is a great source of inspiration for some guided meditations if you have trouble staying focused yourself.
3. Yoga
Stretch your body with a morning yoga routine. I like Yoga with Adriene.
4. Mindfulness
Explore some mindfulness activities whilst the house is quiet and your brain isn't overloaded by your To Do list.
5. Exercise
Take some exercise to get those endorphins flowing and give you an energy boost for the day. I don't enjoy exercising so I find it helps to get it out of the way first thing in the morning!
6. Social media
Catch up on social media for a few minutes so perhaps you won't be tempted to waste more time on it or get distracted during the day.
7. The news
Update yourself on the news so you know what's going on in the world. I personally avoid watching the news last thing at night because I find it difficult to switch off.
8. Read
Read a chapter of your favourite book.
9. Listen
Listen to a podcast for information or inspiration. I love podcasts because I can listen whilst I'm walking or making dinner. These are examples of when multi-tasking is a benefit!
10. Get outside
Take a walk and enjoy the calmness of nature. Look around you, breathe in the air and enjoy listening to the sounds of nature.
11. Affirmations
Repeat some affirmations to encourage a positive outlook. Try these 60 positive daily affirmations.
12. Gratitude
Write a morning gratitude list to appreciate what you have, instead of chasing what you don't.
13. Be proud
Write 5 things you're proud of yourself for and stick them on a post-it note on your fridge or bathroom mirror so you can be reminded of them throughout the day.
14. Your To Do list
Write a short, strategic To Do list for today. Keep it simple and focused on things that you really have to do.
15. Self-care
Have a shower and wash your hair and enjoy taking care of yourself. Make self-care a daily habit.
16. Clothes
Choose your clothes for today with love and care. This is much easier when you declutter your clothes and simplify your wardrobe.
17. Sort lunches
Make the packed lunches.
18. Prepare
Get the school bags ready, permission slips, PE kits, keys and anything else that you mustn't forget as you leave home for the day.
19. Dishwasher
Unload the dishwasher and put everything away. Remember to keep the kitchen counter as clear and clutter-free as possible!
20. Dinner
Prep the dinner for tonight.
21. Your inbox
Catch up on and action your emails. Decluttering your inbox regularly is a great way of making this quicker and easier!
22. Your bedroom
Make your bed, tidy your bedroom, put your clothes away and let in the light.
23. Morning Pages
Journal your first thoughts of the day by writing three pages of whatever comes into your mind before your mind gets distracted by anything else. Read more about the Morning Pages practice by Julia Cameron.
24. Work
Knock out some work (if you work or can work from home).
25. Eat that frog
Do your biggest, most urgent or most important task first and feel the weight lift from you. That important task is your biggest frog and best eaten first! Based on a quote by Mark Twain and developed into a book of the same name, Eat That Frog by Brian Tracy.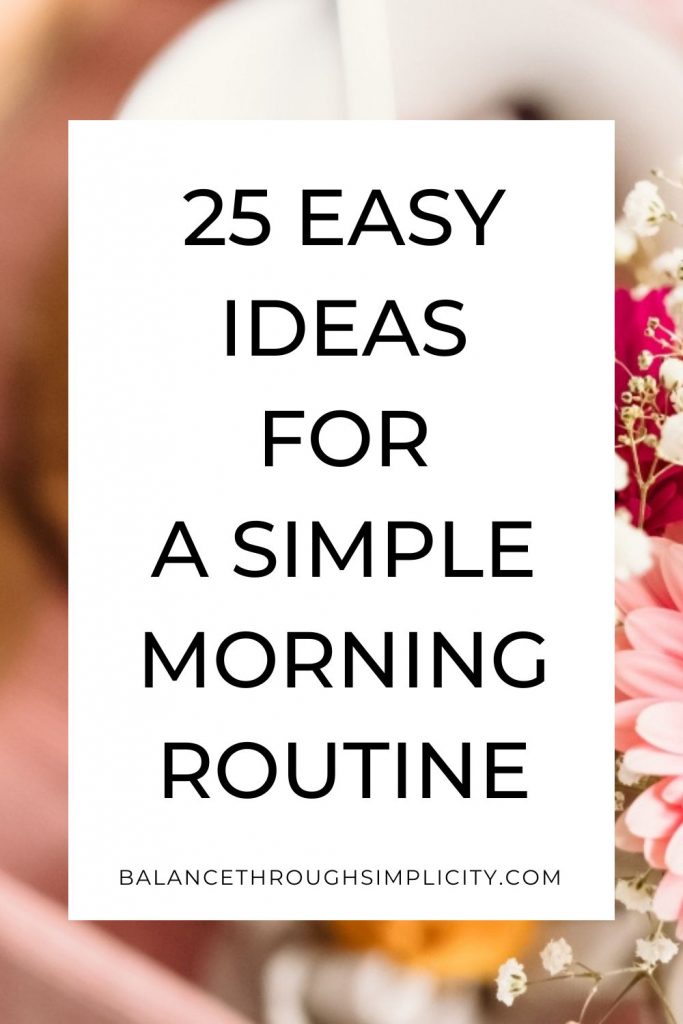 RELATED POSTS
RESOURCES FOR INTENTIONAL LIVING
If you'd like to explore intentional living and how to get the most out of your life, here are some resources which you might find helpful:
SAVE THIS PIN TO PINTEREST TO READ LATER!