DECLUTTERING AND SELF-ACCEPTANCE AND HOW THEY BENEFIT EACH OTHER
Decluttering is about getting rid of stuff but it's also about understanding the emotions behind why we hold onto that stuff in the first place. In this article I'm sharing some thoughts on the relationship between decluttering and self-acceptance.
WHAT IS SELF-ACCEPTANCE?
According to verywellmind.com, "Self-acceptance is the ability to accept both your strengths and your personal faults without judgment" says Meghan Marcum, PsyD, Chief Psychologist at AMFM Healthcare.
Although we very often want to improve ourselves, criticise our faults and imperfections and compare ourselves unfavourably with others, self-acceptance is about understanding ourselves and being happy with who we are.
It's about embracing our truest and authentic self, the good and the bad, practicing self-forgiveness and acknowledging that we all have our very own unique combination of strengths and weaknesses.
"We can never obtain peace in the outer world until we make peace with ourselves."

Dalai Lama XIV
WHAT IS DECLUTTERING?
Decluttering is the act of getting rid of stuff that doesn't support us to live our best life. This is just one definition of decluttering and it's deceptively simple.
Decluttering is far from simple but really this definition is spot on. How you choose what supports you and what your 'best life' looks like will vary from person to person, but anything that detracts or distracts from achieving this is really just clutter.
However, that doesn't mean that clutter is a bad thing. It's often just a by-product of a busy mind, busy schedule and busy life. We shouldn't judge another just because they have clutter because clutter builds up for all manner of reasons, some of which we can't always help – until we know how (and even then it's not so simple).
WHAT HAVE DECLUTTERING AND SELF-ACCEPTANCE GOT TO DO WITH ONE ANOTHER?
I've written before about how decluttering and the minimalist lifestyle is not about stuff. And it's really not. It's about what we want from life and the value we place on the things in our life that supports that life.
Over the years I've learnt and taught that there isn't one way to 'do' minimalism and certainly no rule-book you must follow. Your home doesn't have to be white walls and no furniture. With a mindful approach to what constitutes clutter in YOUR life, you can find your own version of minimalism that suits and supports you.
Decluttering is also not about your stuff because the decision-making process is so often not practical. We make many decisions based on how we feel, with our heart and our gut, not our rational, logical and analytical brain!
I'll mention this again in a moment, but for now, I'd like to tell you about my boots…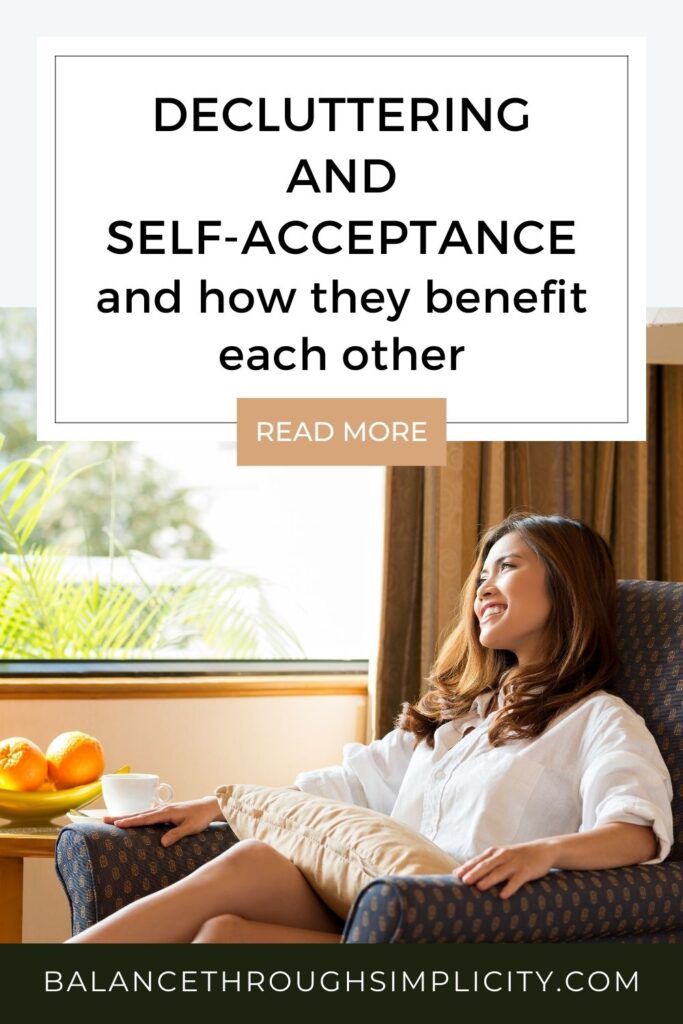 MY BOOTS AND A LESSON IN DECLUTTERING AND SELF-ACCEPTANCE
I had a beautiful pair of boots sitting in my closet for nearly 10 years.
They were expensive when I purchased them, were comfortable to wear and looked great, and I wore them regularly when I was at work or out in the evening. I got loads of use out of them and they were my go-to boots whenever I wanted to feel confident and ready for life. Those boots took me places and bring back some wonderful memories!
However, there came a time when I realised that those faithful old boots hadn't seen the light of day for quite a while. I hadn't sought them out because I needed them for work or an evening out. They just sat redundant at the back of my wardrobe taking up space.
But I had been to work and I had been out in the evening since I last wore them, so why were they looking so forlorn and unused?
It was pretty simple really. I'd reached for another pair of shoes or boots instead.
Was I keeping those beautiful boots for sentimental reasons?
Was I waiting for the perfect occasion to wear them?
Was I holding onto them just in case I ever attended an important business meeting, or went for a night on the town?
Was I holding on to them through fear of how I'd feel if I didn't have them anymore?
Was it the boots or was it the idea of the lifestyle that I led when I was wearing those boots that I was holding onto?
Probably all of the above.
What I'd actually discovered was the boots were no longer very comfortable. My fashion style had changed along with my lifestyle and those boots represented a chapter of my life that was now closed.
I was on to the next chapter. No less challenging or exciting but different. And this new chapter required a different set of boots for me to walk in.
So I got rid of the boots. I accepted that I'd changed, my needs had changed and moving on was a good thing. They did their job fantastically when I needed them too, but I needed a different set of tools for my life now.
For me, decluttering those boots was a lesson in the relationship between decluttering and self-acceptance.
HOW DECLUTTERING AND SELF-ACCEPTANCE CAN BENEFIT EACH OTHER
If you're struggling to declutter I encourage you to take a moment to explore how decluttering and self-acceptance work together. Reframe your thoughts about the stuff in your home and life and think about the ways that practicing self-acceptance might help you declutter and vice versa.
1. Living in the present
Although I loved my boots at the time, I realised that I'd fallen out of love with them and our relationship was over. I'd moved on and they were a memento of my past and sending me messages I didn't need to hear.
I have photos of myself wearing those boots whilst on fun evenings out with friends. I didn't need the actual boots sitting in my wardrobe to remind me of that.
Instead I chose to focus on my life now and what I needed in that life in the present moment. Although I love having treasured memories of my younger years, I also have a life that I want to love and live now.
2. Make easier decluttering decisions
Once I came to accept that those boots no longer suited my needs, it was easier to decide to let them go. I donated them to somebody else who could enjoy them instead. As Nancy Sinatra sang, 'these boots are made for walking', not sitting in my closet.
I wasn't caught up in the 'just in case' conundrum, or worried that throwing out the boots would also throw out my memories. Or, even, that I secretly longed for my old life back and was resentful of my current, simpler and slower lifestyle (albeit with the challenges of work and family).
Accepting, and actively deciding, that my life no longer required those boots made a tough decluttering decision infinitely easier.
As another example of decluttering and self-acceptance, I used to love tapestry and cross-stitch. When I had time, I found it a very cathartic and creative pastime. Nowadays, I seldom have the time or patience. Accepting this about myself and my life helped me get rid of my craft supplies and I now love to listen to audiobooks and walk instead.
3. Increased emotional awareness
Decluttering is meant to be easy right? You just grab a box or bag and throw out anything you don't want to keep. Simple? Not really.
For anyone who's tried it, decluttering can be really hard and I think that's because, in many ways, we don't approach it right. Decluttering can start by getting rid of stuff and there's plenty of benefits to be had in just diving in and seeing what you can throw out. I have a 30 Day Declutter Challenge you can join if you want to try this approach!
Getting rid of stuff, either fast or slow, certainly helps us see and feel the benefits of a decluttered home. However, the clutter soon builds up again without some robust decluttering strategies in place to keep it away.
More than that though, decluttering is actually not to do with making decisions about our stuff, it's also to do with making decisions about our emotions.
For some items we can make purely practical decisions on whether to keep it or not. Expired medicines or food that's gone off, for example. But for other items, we make decisions with our hearts, not our head.
Accepting your emotions as powerful, real and, importantly – valid, are key to easier and successful decluttering. Face your emotions head on, don't hide away or store them like you store your clutter. Listen to them, address them, think them through, use them.
Emotions aren't there to trip you up or to make things difficult although they often do! They're there so you can understand yourself better and find ways to support yourself – mentally, physically and in your environment (your home) too.
Whether you're worried about decluttering memories, wasting money or not being able to afford something you since got rid of. Perhaps your clutter is a security blanket for an anxious mind, or you struggle with ADHD, physical limitations or just having the confidence in your own decision-making, there are decluttering strategies that can help you but it all starts with a gentle, compassionate self-acceptance.
Deciding what and how to declutter will be infinitely easier if you've dealt with (or are aware of) the emotions that dealing with your clutter makes you feel.
4. Reduces unrealistic expectations
One of the problems we face when decluttering concerns our expectations. We read decluttering tips, learn the tricks, buy the courses and workbooks, listen to the podcasts and watch the YouTube videos but then still struggle to declutter our homes.
All these resources at our disposal are wonderful but we have to do our own inner work too. Clutter won't just disappear because we know how to get rid of it.
We need to know HOW to get rid of our clutter in a way that works for US as individuals.
This is where the unrealistic expectations can come in.
We want to:
Declutter quickly – but we have too much stuff or can make rash decisions
Create a highly a simplified home – but we have a busy family who aren't on board with decluttering
Declutter perfectly – but deciding how to declutter perfectly means we never get started
Choose the exact right numbers of items to keep – we get hung up on the 'how' of decluttering instead of focusing on our 'why'
Make good decisions to avoid future regret – we focus on our future self instead of our present self
Feel motivated, full of energy and enthusiastic about decluttering – we don't give ourselves permission to listen to our body and account for mood changes, tiredness, illness and the tiring challenges of daily life
Not feel bad because clutter's built up and we need help in clearing it – we don't ask for help through shame or fear
Immediately understand how clutter builds up and equally fast, get rid of it and keep it away for good – we haven't got into a decluttering mindset
Again, these are very common and understandable desires and feelings around decluttering but they're not always helpful or realistic.
We expect the decluttering process to be one thing but find it's something else. It's harder or less straightforward than we thought. It takes more time, is more frustrating, requires a long-term shift in thinking rather than a short-term project we can tick off with a printable checklist. And, in today's world of instant gratification, a long-term shift seems like a lot of hard work!
Accepting the resources you have at hand to help you declutter and any challenges you might be facing as you declutter, will help make the process easier and smoother for you and your family. There's a lot to be said for decluttering slowly and steadily.
There's also plenty of benefits to decluttering checklists, or diving into the messiest cupboard in your home with a timer set for 5 minutes and getting rid of as much as you can, or sitting down with a pen and paper to write your responses to these decluttering journal prompts.
There's a link between decluttering and self-acceptance. Knowing and accepting yourself is key to finding a decluttering strategy that works for you.
5. A vision for your life
When I've come to terms with changes in my own life, either those external factors around me which I can't control, or those within me which I can better control, I've found that accepting myself helps me look to the future with renewed enthusiasm, clarity and focus.
I've always been a planning kind of girl, but I don't have set goals of where I'd like to be in 5 or 10 years. This feels way too restrictive for me.
However, accepting my life and myself helps me decide what I want from life and what steps I need to make that happen. I can create a vision for my life that feels in alignment with my values and priorities as they are now. Not what I decided they were a decade ago and am still clinging on to even though my instinct and heart tell me otherwise.
So, where does this fit with decluttering?
Well, decluttering is about keeping what supports you in life. Therefore, knowing where you want your life to be heading is useful insight for knowing what stuff you'll need to help you get there. Here's a little example…
Years ago I wanted to get a degree in Art History so I bought lots of books and signed up for a course. Then my life got busy, my focus shifted and, ultimately, I wanted to visit art galleries in my spare time instead of write long essays late at night just so I could get that degree certificate.
Nothing wrong with backtracking or having a change of heart but it did mean I could get rid of those textbooks and clear a shelf or two whilst I still enjoy my passion for art.
What does your vision for your life look like and how could self-acceptance and decluttering help you to bring that vision to reality?
SHARE YOUR THOUGHTS
Decluttering is as much about our mindset, thoughts and behaviours as it is about getting rid of stuff. In fact, as I hope the examples and thoughts I've shared in this article might help you see, decluttering is easier when we get a handle on what we're thinking and why we're thinking it in relation to our stuff.
Getting to the point of self-acceptance takes work. The process can make us feel vulnerable and uncomfortable. However, acknowledging who and what we are and what supports us the best in life right now is key to easier and more successful decluttering.
I'd love to hear your thoughts on this. If you have anything to add or share, please leave a comment below.
MORE ON THIS TOPIC
Here are some resources and articles to help you declutter your home:
FREE DECLUTTER GUIDE
If you'd like to start decluttering your home, schedule, heart and mind, why not get my free Declutter Guide to help you begin? Pop your details in the box below so I know where to send it…
DON'T MISS OUT!
I'm Antonia and on this blog I share practical inspiration to simplify your home, time and life. Follow me on Instagram, Facebook and Pinterest! You can also subscribe to Balance Through Simplicity and receive regular simplicity tips straight to your inbox for free. Make sure you never miss an article plus you'll get a copy of my free Declutter Starter Kit as a welcome gift!