HOW TO DECLUTTER YOUR HOME AND LIFE
Clearing the clutter is often the first step to creating a simpler life, with more time and less stress. Decluttering isn't always easy but this guide provides some helpful tips on how to declutter your home and life and make space for what matters most to you.
A HELPFUL GUIDE TO DECLUTTERING
Decluttering your home and life creates space, time and freedom. In today's busy world, it seems more and more of us are looking for ways to ease the load, reduce our stress, make life easier and pull back from the chasing, doing and achieving.
Decluttering is becoming increasingly popular and it's often the first step to a simpler life. Yet, decluttering isn't always easy.
For me, it was definitely a case of trial and error, a few false starts and lots of detours along the way!
I thought it might be helpful to share my story and the tips I've learnt along the way.
I hope it breaks down the what, why and how of decluttering and makes it easier for you to try it for yourself (without making the same mistakes I made!).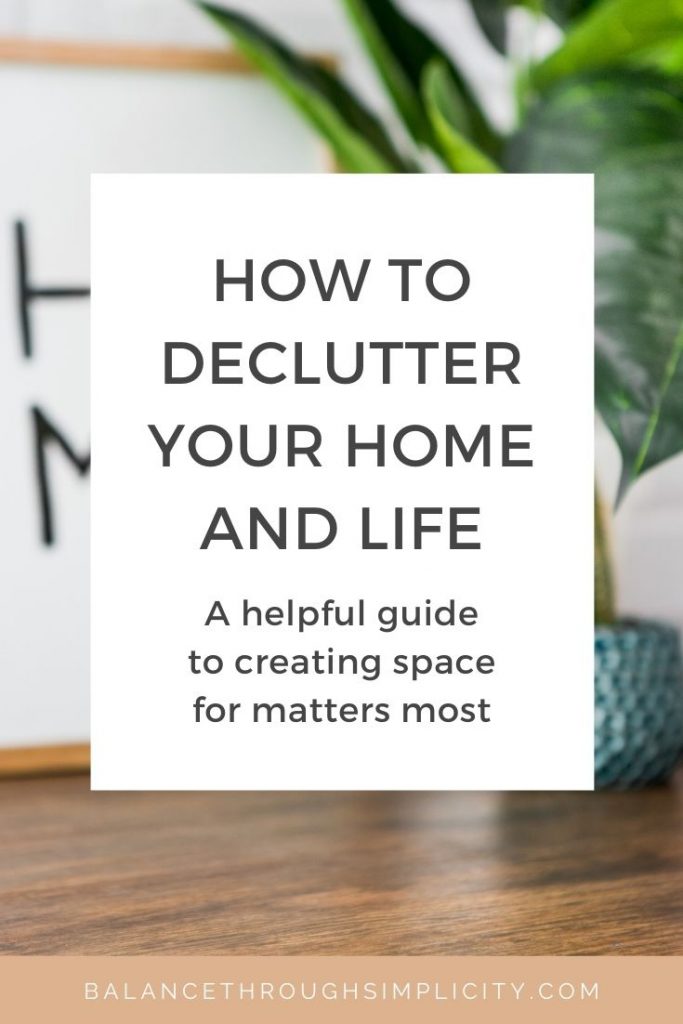 WHY I BEGAN DECLUTTERING
My own clutter-free journey started out when I spent a weekend decluttering my clothes.
I'd had enough of not being able to find anything to wear, throwing on clothes that I didn't really feel good in as I ran out of time to get dressed in the busy mornings. I was frustrated that juggling family and work left me little time to make myself look good and more importantly, feel good, each morning.
I was stressed out and worn out. Of course, it wasn't really just about my clothes, but life in general. The frustration I was feeling was just an outward symptom of an underlying problem. Things needed to change!
Decluttering my wardrobe bought about instant benefits. I could choose my clothes quicker, knowing that whatever I pulled from my closet was something I'd like to wear and feel good wearing. Not only was it quicker, it was easier, more enjoyable and much less frustrating!
I loved the impact of this small decluttering project so, over time, I carried on decluttering the rest of my home – the kitchen, my living room, the kids' bedrooms and so on.
Little by little, I began to notice some big differences, not just in my home, but in other areas of my life too.
Owning less stuff created more time, space and energy for other things that I wanted to do instead and a better life for myself and my family.
Decluttering was the first, vital step. If you'd like to explore decluttering for yourself, I hope the ideas and tips that follow will help guide you through the process in a way that feels right for you.
WHAT WE'LL COVER
What is decluttering? Keeping what's important and letting go of the rest
What are the benefits of decluttering? More space, calm and clarity
How do you start decluttering? Little tips to make decluttering easier
How do you know what to declutter? Ask yourself some simple questions
How to declutter when you don't have time? Tips to declutter quickly and easily
How to declutter when you feel stuck? Overcome decluttering problems
How to declutter the rest of your life? Living a clutter-free life
Resources for decluttering. Resources to help you declutter your home and life
WHAT IS DECLUTTERING?
Decluttering is the act of getting rid of the excess, the things that you no longer need, want or serve a purpose. It's about clearing the clutter and removing the things that don't add value to your life or align with your priorities and what's important to you.
Decluttering doesn't just apply to your home and your physical space and possessions. You can declutter your mind and declutter your schedule in the same way.
Decluttering is your first step to simplifying life.
Keep what's important to you and let go of what's left.
"Simplicity boils down to two steps: Identify the essential. Eliminate the rest." Leo Babauta
WHAT ARE THE BENEFITS OF DECLUTTERING
Clearing our clutter creates space and calm in our homes. We have less stuff to look after and more free time for other things. With more space and more time comes less stress, more ease and more freedom for the things that we most value rather than the stuff that just takes up our space and weighs heavy in our hearts and minds.
Decluttering is the first step that many people take when simplifying their lives. It's the way that most of us can see and feel the biggest difference and it's the springboard to a life that's fuller in every way (just without so much stuff!).
"Once we let go of the things that don't matter, we discover all the things that really do." (Joshua Becker)
Suggested reading:
HOW DO YOU START DECLUTTERING?
Decluttering isn't always easy. There are so many reasons why we get attached to our stuff or have too much of it and sometimes it's difficult to know where or how to start clearing it.
If this feels familiar to you, take heart as you're definitely not alone and there are some helpful tips and strategies to make it easier to get started.
Suggested reading:
HOW DO YOU KNOW WHAT TO DECLUTTER?
Decluttering is not a precise science and working out what is clutter and what's not can take practice and a little self-reflection.
For decluttering to be sustainable and beneficial over the longer term, it helps to approach the decluttering process by asking the right questions. Decluttering is about working out what's important to you and adds value to your life in some way. It's not just about getting rid of things for the sake of it.
Suggested reading:
HOW TO DECLUTTER WHEN YOU DON'T HAVE TIME
Decluttering can take a lot of time if you want it to. For many of us, though, setting aside large chunks of time to declutter your entire home might seem a little overwhelming or unrealistic if you have a busy life or you're not enjoying the challenge!
However, that doesn't mean you can't have a clutter-free home! It's about finding little windows of time every now and then and having a plan or project that you can get stuck into whenever you have a moment.
Suggested reading:
HOW TO DECLUTTER WHEN YOU FEEL STUCK
Decluttering can bring about some fantastic benefits but reaching that point can be tough. It's very common to lose motivation after the initial burst of enthusiasm, be unsure what step to take next or simply feel a little overwhelmed. Decluttering some items is more difficult than others so here are some tips for decluttering sentimental items or your child's artwork for example.
If you have a lot of stuff, here are some helpful decluttering tips for hoarders. Maybe you need some of these tips on how to declutter if you don't have time? Or even perhaps some ideas on how to declutter when you want to keep some of your stuff too. These are all common problems that many of us face so don't worry!
If you're struggling, take a break but don't give up. Just remember that it's not a race and taking your time to let the changes happen and take effect isn't such a bad thing. It takes time for clutter to build up so it's only natural for it to take a little while to clear. Be kind on yourself and remember you're doing this to make a better life for yourself, even if it seems difficult in the beginning.
Suggested reading:
HOW TO DECLUTTER THE REST OF YOUR LIFE
Clutter has been shown to increase stress levels and reduce focus and concentration. Clearing that clutter therefore brings our stress levels down, creates a little calm and clarity. This doesn't just apply to your home, but decluttering other areas of your life can have the same benefits just in a different way.
"Clutter is not just physical stuff, it's old ideas, toxic relationships and bad habits." (Eleanor Brown)
You can create a clutter-free life asking yourself the same questions about what's adding value to your life and what's just clutter. You'll get some wonderful benefits in other ways. And, as you begin to think differently about your stuff you'll begin to discover why a clutter-free life is an intentional life.
Suggested reading:
FURTHER READING
I hope this information has been helpful to you. For more articles on decluttering, hop over to the declutter archives.
If you have any questions, please drop me an email at hello@balancethroughsimplicity.com and I'd be happy to help!
RESOURCES FOR DECLUTTERING
If you'd like to explore what decluttering your home and life could mean for you, here are some resources which you might find helpful:
20 ways to declutter your home – tips and projects to try today.
Declutter Starter Kit – a free guide and workbook to help you understand the what, why and how of decluttering. Projects, tips and guidance to clear the clutter in your home and life.
Your Intentional Life – a free 7-day email challenge to help define your priorities and begin your intentional living journey.
YOUR NEXT STEP…
If you'd like to try decluttering for yourself, I've put together a free guide and workbook to help you get started. We explore ways you can declutter your own home, solutions to common problems, and how decluttering is just the first step to a simpler life for you.
Pop your details in the box below to get started…