MINIMALISM AND PERSONAL GROWTH: HOW MINIMALISM SUPPORTS SELF-IMPROVEMENT
In this article we look at the relationship between minimalism and personal growth. I'll share some ways that I think minimalism supports self-improvement. There's also a free 30-day Personal Growth Challenge to explore your own mindset, values and habits and how these support you for a meaningful life.
WHY IS PERSONAL GROWTH IMPORTANT AND HOW TO GET STARTED
One of the most popular challenges on Balance Through Simplicity is the 30-day Personal Growth Challenge.
This is a totally free challenge with daily journal prompts to help you identify your goals, plan your priorities, set direction and live a life of purpose.
Sometimes I get asked why I created a challenge on self-growth and personal development when my website is mainly about simplifying and decluttering your home and life. Well, the honest answer is that I don't just want to write about decluttering and getting rid of things because to my mind, minimalism (and simplicity) is not just about getting rid of things.
Minimalism is about having a rewarding life, full of stuff that brings you peace, happiness and fulfilment, just with less clutter and stuff that pulls you down.
Life brings with it many things that weigh heavy on our hearts and minds, but I do believe we're all here to make a difference, have a positive impact and leave the world a better place.
Personal growth is the key to being able to do that in a meaningful and constructive way.
WHAT IS PERSONAL GROWTH?
Personal growth or personal development, is about continually exploring our mindset, habits, beliefs, attitudes and goals as part of ongoing self-improvement. It's how we develop new skills, cultivate a positive outlook, set goals for ourselves and reach our full potential.
Learning more about ourselves, developing our experience and knowledge to benefit us and those around us, is how we go about changing the world or even just our own small space in the world.
This, of course, is not just when we're young and starting out. There is scope to learn more about ourselves at every age. After all, the person you are at 20 is unlikely to be the same person you will be at 80. Life changes, we change and so we always have something new to both learn and to contribute!
According to Mindvalley, "Personal growth is the improvement of our skills, knowledge, wisdom, habits, behavior, and personal qualities. Personal development allows you to reach your full potential, be your best self and live your happiest, most successful life."
"Don't go through life, grow through life."

Eric Butterworth
And really, it's the way we get the most out of life – being productive, getting things done, overcoming challenges, knowing what we want and going for it and living the fullest and happiest life we can. Sometimes we even surprise ourselves by achieving things we previously thought we couldn't or wouldn't!
Personal growth is key to helping us understand what motivates and drives us, what distracts or de-motivates us. We learn about ourselves so that we know why we do what we do and how to make choices that serve and support us best.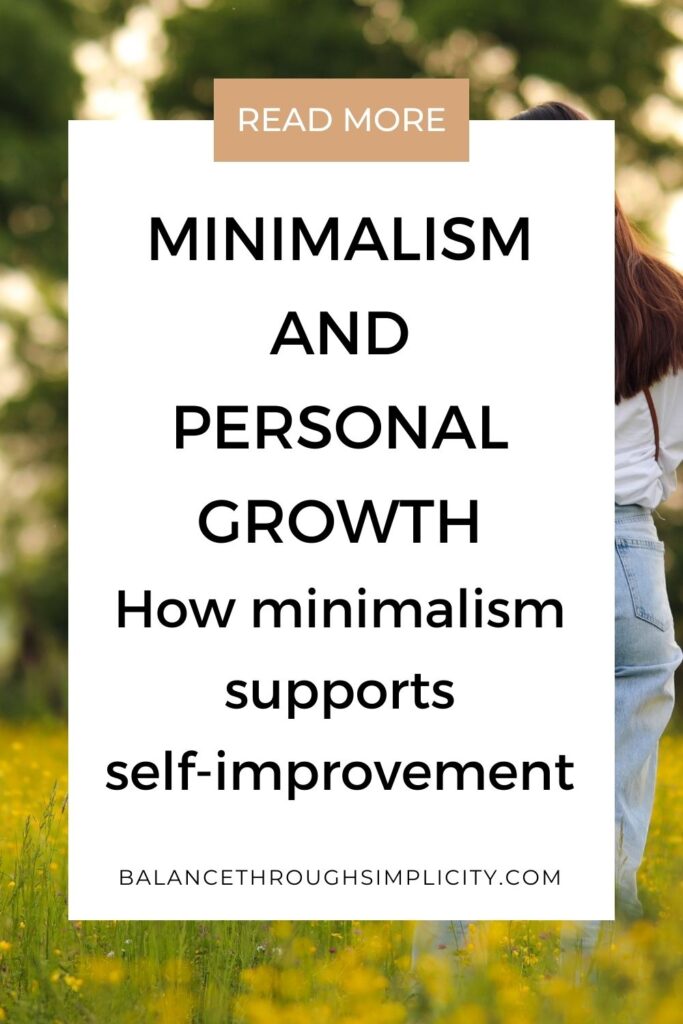 MINIMALISM AND PERSONAL GROWTH
So how does minimalism as a lifestyle support self-improvement? Here are some links I've found between minimalism and personal growth and why an intentional life with less clutter (in all its shapes and forms) can help us learn and explore more throughout life.
1. Encourages awareness
Minimalism is about awareness, of what you want to keep in your life and what you want to keep out. Knowing what makes you tick, what captures your interest and what you're passionate about, is key to working out what you want in life and what you need to have or do to make that happen.
2. Cultivates better habits
Personal growth requires commitment and patience. It doesn't happen overnight and you'll probably need to put in time and effort to learning, discovering, working towards and building your best life. Minimalism is about creating habits that support you, habits that start small and are repeated often to bring about positive change.
3. Encourages intentionality
The minimalist lifestyle is all about intention. Asking why, not being afraid to try things out and see what's right for you. There's a purpose behind your actions, whether it's donating stuff you don't need or avoiding unwise purchases if you haven't got enough money in the bank. Being intentional supports personal growth in goal-setting, time management and making sure that the effort you're putting in aligns with what you want to achieve!
4. Creates time and space for you
Busy life often squeezes us out and personal growth gets put on the backburner as we're too preoccupied with just getting through the day. A minimalist life tries, as much as life allows us, to find wiggle room for what you WANT to do, not just what you NEED to do! Here are some tips on how to be less busy so you can find more time in your schedule.
5. Encourages us to be present
Personal growth is about looking to the future, but it's also about looking at where you are NOW. What's working in your life, what's not, what could you change right now for some short-term goals, what are more medium and long-term goals that you could begin to work towards today for the future. What skills do you have now which are under-utilised or you'd like to develop? So often we're too busy chasing, striving, achieving and pushing for the next thing that we fail to realise, appreciate and expand on what we have right now.
6. Creates an environment for greater productivity and focus
Research has shown that minimalism (or more specifically, less clutter) helps us create environments that are calmer and more conducive to creativity, better productivity and more focus, with less stuff to distract us and waste our time in clearing desks and wading through paperwork or emails. Whether it's being more organised at home generally, or organising your desk, a minimalist workspace can help us study, learn and work more productively.
TRY THE FREE 30-DAY PERSONAL GROWTH CHALLENGE!
Simplifying life makes it easier to get the things done that we need to, so we have more time to focus on our goals, dreams, self-care, family, health, relationships, mindset and everything else that makes you, you (and which usually drop to the bottom of the pile during a busy day in a busy life).
Simplicity gives you space to grow and make a difference to your own life and that of those around you.
I created the 30-Day Personal Growth Challenge to encourage you to think about different areas of your life.
What holds you back? Why? How can you overcome these?
What do you enjoy? Why? How can you do more of these things?
What skills, resources and knowledge do you have or can you acquire to enhance your life?
How can you create more time and space for the things that matter?
Can you define exactly what does matter to you?
Simplicity underpins the challenge because sometimes trying new things or pushing ourselves out of our comfort zone is difficult.
We need less on our plate and more time on our hands
We need less to remember and more to dream about
We need less of the distraction and more of the action
Some of the days require you to clear the clutter, others require you to tweak your daily habits and routines, others ask you to think about what you enjoy and what you don't (this is just as important).
There are no right or wrong answers and how much you get out of the challenge has a lot to do with how much you put into it. However, it's a little starting point to learning more about what you want out of life and clearing the way to take your first steps.
If you'd like to try the challenge for yourself, it's completely free. Just pop your details in the box below to get started…
MORE ARTICLES ON MINIMALISM AND PERSONAL GROWTH
Here are some more articles on minimalism and personal growth which you might enjoy:
DON'T MISS OUT!
I'm Antonia and on this blog I share practical inspiration to simplify your home, time and life. Follow me on Instagram, Facebook and Pinterest! You can also subscribe to Balance Through Simplicity and receive regular simplicity tips straight to your inbox for free. Make sure you never miss an article plus you'll get a copy of my free Declutter Starter Kit as a welcome gift!