DECLUTTERING WITH ADHD: 9 TIPS TO HELP CLEAR CLUTTER WITH ADHD
Clearing clutter can be a struggle for many of us. In this article we explore some of the particular challenges of decluttering with ADHD and offer some helpful tips on how to clear your clutter – ADHD style!
INTRODUCTION
Over the past few months I've been learning a lot about ADHD (Attention Deficit Hyperactivity Disorder) and the particular challenges that those with ADHD face to keep the home neat, tidy, clean and clutter-free. This is a struggle even for neurotypical people but even more so when you're navigating home and life with ADHD.
One of my lovely readers and friend, Laura, has kindly offered her personal thoughts on decluttering with ADHD in today's article. If you struggle with ADHD, have someone in your home or life that struggles too, I hope you find this article helpful.
One of the key points that Laura raises, and that I would like to reiterate, is that there isn't a perfect recipe for successful decluttering. Moreover, how successful you are in clearing your clutter shouldn't be a measure of how successful you feel in managing your home and all the other things we are 'meant' to do in busy life. Using 'success' to define these things isn't fair on you and just adds pressure and stress.
One less piece of clutter is still one less piece of stuff for your body and brain to deal with, and if that's all you can manage today or this week, then that is perfectly good enough!
I hope you find the following article helpful but also reassuring and comforting. Thank you Laura for sharing your insight…
THE CHALLENGE OF DECLUTTERING WITH ADHD – LAURA'S STORY
If your ADHD journey is anything like mine, you've spent years hating your messy, dirty, cluttered home – and yet somehow found yourself lying in bed on the weekend, unable to get up and make a start despite having it all planned out in your head (or, in my case, on many, many Trello boards!)
On the job, you may well be a star performer, capable of intensely focused work for long periods at a stretch. But then you come home, and nothing gets done.
You may have found, like me, that this issue got much worse after menopause, due to the role that estrogen plays in our ADHD brains.
Let's get something straight right now: you are not lazy. In fact, you've probably been working twice as hard as those around you to get your work done, compensating for the under-performing executive function area of your brain.
Your job gives you the structure that an ADHD brain needs, but home is more free style.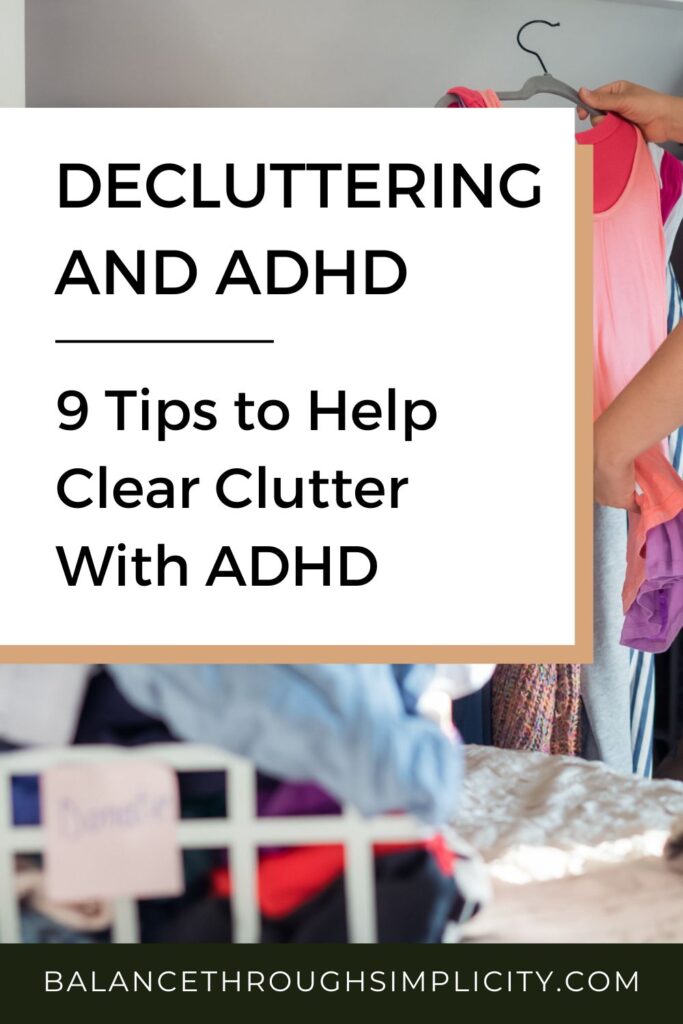 STRATEGIES FOR DECLUTTERING WITH ADHD
Take heart! Learning to clean and declutter at home is all about finding workarounds for your under-performing executive functions, such as task initiation.
You'll need to bring a big supply of compassion and creativity with you, but it can be done. Here are some suggestions that have worked for me.
1. Don't make a huge pile of stuff to get decluttered, sorted, and put away because you're having a good day
Every item you need to make a decision about involves the executive function area of your brain. Your brain might power down just looking at it, because suddenly you're overwhelmed. (Hello, large stack of books in my living room that I was going to Marie Kondo! How many months have you been sitting there, now?) Do decluttering in small bites.
2. Cleaning, tidying, organising and decluttering are four separate tasks
And in the ADHD brain, it doesn't work well to attempt to do all four at the same time. Emptying a drawer, wiping it, decluttering the contents, and putting everything back in orderly fashion involves multiple steps that seem simple to someone who is neurotypical, but can overwhelm the ADHD brain.
Instead, try emptying it, wiping it, and shoving everything back in. Or leave everything in the drawer, and pick out anything obvious to declutter. You'll learn to recognise when a task has "too many steps", and to eliminate some of them.
3. Remove barriers to decluttering
I find it helpful to have a recycling bag (my preference for donated items, but you may prefer a box or something else) already in the room, ready to go. Sometimes the tiniest things can keep us from moving to the next step of actually decluttering the item.
Put the bag or box in the room when you're having a good day, and congratulate yourself. It may feel like you did a small step, but you've removed a big barrier.
4. Learn to recognise a good day for decluttering
If you're thinking to yourself, I could donate that top, and that book, and chuck out those shoes, it's probably a good day to do just that. Put the top in the bag, and if you see any other items while you're getting it out of the closet or drawer (for example), put them in too.
Move onto the book and shoes if you're still feeling confident about your decisions. Stay in motion if you can.
5. Learn to recognise a bad day for decluttering
If you're thinking that you could donate that top, but you can't seem to get up and stuff it in the donations bag, that's okay. Chances are your brain will hold onto that decision, and you can implement it on a good day.
It's perfectly okay to do your decluttering in stages. As I often remind myself, it all counts.
6. Learn to recognise when you've powered down
I had a period recently where I had enough executive functioning to use the KonMari Method (Marie Kondo) on my clothing. I found that I could do really well for a time, deciding what I didn't love and needed to release for someone else to use. But there came a point each day where I stopped being able to decide what to keep and what to declutter.
Decluttering, at its heart, is not an intellectual decision. It's about the emotion of releasing an item, and there are a lot of steps to each decision.
Neurotypical people have these steps integrated into what they think is one step. But it's not. So when you reach the "can't decide" stage, make the decision to keep everything remaining, without judgement. I promise there are no decluttering police! You can always revisit the items later on.
7. Learn to avoid overwhelm
When I tried out Marie Kondo's ideas, I did pretty well with my clothing and accessories. But although I really wanted to do the full KonMari Method, because she promised magic would happen if I did all the steps as defined, I hit my books and completely stalled out. Getting all your books in one place is great if you're neurotypical.
If you have an ADHD brain, at some point (I would guess, based on my own experience) the KonMari Method will make you crash and burn. Those books are still sitting on the steamer trunk I piled them on, and they're not even all of my books!
Yes, you can find tiny steps to move you past feeling overwhelmed, but tunnel vision and small tasks are your best bet. In hindsight, I should have done one shelf at a time, and only on a good day.
8. Learn to be a bit ruthless
I often look at something that's a consumable, for instance, and think, I should use that for X since I don't like it for Y.
Case in point, I bought online a boutique body wash that has a fragrance note in it that I can't stand. Can I use it for cleaning since I don't like using it for personal hygiene? The truthful answer is, I won't use it for either. Throw it out. Yes, I could take it to my local food bank for someone less privileged to use. But will I get that task done? Extremely doubtful. Throw it out. Will I feel guilty? Maybe, briefly.
If you're like me, once it's gone you'll likely never think of it again. So declutter it. Throw it out. I guarantee the world won't end and there are many other ways you can help the planet. (Send money to your food bank if you really need to assuage your guilt – they might prefer money to donations anyhow, as they can stretch it further.)
9. There are no decluttering commandments
I really had to work with myself on this one. Okay, I powered down yesterday, so I stopped. So today I should be able to continue, right? I'm just being lazy if I don't. Well, no. No. NO. After I was laid off from my last permanent job – and I won't lie, I was relieved, because I was having to spend every Saturday in bed, recovering, and that was starting to spill over into Sunday – I would have one 'sort of kind of' good day, and then several bad days where I could get almost nothing done.
I learned that I had to honour those days. My body knew what I needed, and my brain had to follow. There was no point in telling myself "Thou shalt work thy butt off after a day of rest," because no matter what I said to myself, it didn't happen.
I'm doing much better now, but that's only because I recognised that I have to take care of myself first and foremost. The idea of "pushing through" is another lie – but that's a topic for another day.
As I hope you can see, these solutions are not instant wins. They're guides to finding what works for your particular version of the ADHD brain. Don't be afraid to try something else if one strategy doesn't work, and above all, be compassionate with yourself. Yelling at yourself and calling yourself names doesn't help – I speak from experience. Pretend instead that you're talking to a friend who's struggling – what would you say to help them?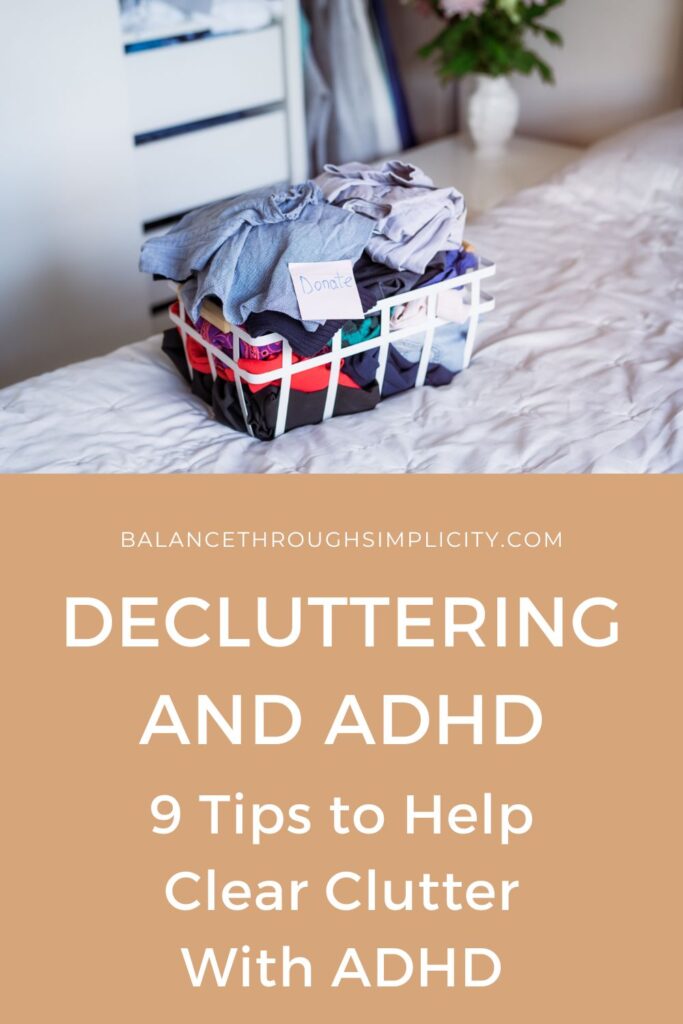 FURTHER RESOURCES TO HELP WITH ADHD AND DECLUTTERING
SHARE YOUR THOUGHTS
I hope you enjoyed this article and found it helpful. Perhaps you're struggling with clutter but find decluttering with ADHD a challenge? Maybe you're supporting someone else who's in this position. Or maybe you just struggle with how to get rid of, or let go of, too much stuff and some of what you've read resonated for different reasons.
I'd love to hear your thoughts. Please leave a comment if you have any suggestions to add or would like to share your experiences.
MORE ON THIS TOPIC
Here are some other resources which you might find useful. They don't specifically relate to decluttering with ADHD but they build on some of the points mentioned in this article.