DECLUTTERING BEFORE MOVING: WHAT TO DO AND HOW TO BEGIN BEFORE YOU MOVE HOME
Moving can be stressful but it doesn't have to be that way if you have a plan and stick to it. Here are some tips on decluttering before moving, what to do and how to begin before you move home.
WHAT IS DECLUTTERING?
Decluttering is the process of getting rid of items in your home that you don't use, don't like or love and don't add value to your life in some way.
Decluttering has becoming increasingly popular as many of us struggle to find the time to manage our homes and lead fulfilling lives. Clutter builds up daily, from emails in our inbox to junk mail landing through the letter box.
Not only is it the problem of too much physical stuff to look after but that clutter takes up our time, drains our energy, puts pressure on us and we feel overwhelmed and daunted.
THE BENEFITS OF DECLUTTERING
Decluttering our home is an important way of reducing that stress and giving us time, space and freedom to live our lives and enjoy our homes.
Research has confirmed the relationship between stress and clutter so dealing with our stuff and adopting some habits and routines to keep the clutter away is a great way to create more ease and less stress in your life.
DECLUTTERING BEFORE MOVING
Decluttering has other benefits and one of these is decluttering before moving. Before you move home is a great time to look at the stuff in your home from a different perspective.
You don't want to be moving clutter from one home to the other. It's time-consuming to pack and unpack and costly to be moving excess boxes that you don't need to move.
If you're downsizing and moving to a smaller home, perhaps decluttering in your senior years for example, you might not have the same space and storage as you have now. Where will you put all your stuff if you have less space for it?
Moving home is a new chapter so why not re-assess what stuff you have now and whether there's a place for it in your new home and life. That's not to say you need to get rid of items you really want to keep or sentimental items that hold a place in your heart. Instead, really take a moment to identify what you want to bring with you and what you'd like to let go of.
DECLUTTERING FOR PROSPECTIVE HOME-BUYERS
It's not just the logistics of packing up your stuff where having less clutter can be helpful. Decluttering is also a useful tool to help make your home more attractive to potential buyers.
First impressions count and when a potential buyer walks into your home, you want them to get good vibes from the moment they walk up to and through your front door. Prospective buyers need to be able to imagine themselves living in your home as THEIR home.
They want to get a feel for the atmosphere, space, light, function and overall ambience. If the space is full of stuff, YOUR stuff, then they might not be able to see past that and imagine what it would be like for them to live there instead.
This is why decluttering before moving, and even before your home is on show for potential buyers to view, is an important way to make your home most attractive to buyers. Whilst we might not all have the resources to give tired décor an overhaul, there's a lot that we can do to clear our unwanted stuff and stage our home for buyers.
HELPFUL TIPS FOR DECLUTTERING BEFORE MOVING
Here are some helpful tips for decluttering before moving and tips to help make moving easier when you have less stuff.
1. Think about first impressions
What's the first place that buyers will see? The walk up to the front door and the entrance way? Focus your decluttering efforts on these areas so there's easy access, nothing on the floor and maximum space. Aim for a clear line of sight and flow from the entrance into the rest of your home.
2. Remove excess furniture
Too much furniture, or over-sized furniture that's too big for the room, can make a home feel cluttered. Think about the purposes of the different rooms, zones and areas in your home and how you use those spaces. Try to keep only what furniture is useful and appropriate. Never be afraid of space! You don't need to fill an empty corner just for the sake of it.
3. Use storage to define how much to keep
One really helpful tip if you're struggling with decluttering is to use the storage space you have available for an item to define how much of that item you're going to keep. If you have lots of books and can't decide what to keep and what to get rid of, allocate your books a clear space to be kept and don't keep more than what will fit in that space. If you find you need yet more storage to keep your stuff tidy and organised, maybe you have too much stuff?
4. Know your timescale
Moving home usually takes a while so use that lead-up time to your advantage. Build a regular decluttering habit and break down decluttering your entire home into small, manageable projects spread over the timescale you're working with. Keep a visual record of what you need to declutter by when and tick it off as you go.
5. Don't leave decluttering until the last minute
If you've got a clear timescale in mind, don't leave decluttering until the last minute. Decluttering often takes longer than expected so give yourself plenty of time and breathing space to declutter consistently and steadily.
6. Be clear on what's coming with you
Decluttering before moving is a great time to re-assess what adds value, purpose and pleasure to your life. The stuff in your home should contribute to this, not detract and burden you. Plan to take only what you really want to have in your home for the next chapter of your life. Declutter and leave behind anything that doesn't deserve a place in your new home.
7. Plan how you're going to lay out your new home
When you've decided upon your next home take photos and measurements, look at the floor plans and work out exactly what furniture, décor and stuff you want to use to make the new space your home. Will your existing furniture fit and, if not, do you really need to bring it with you? How about wall space? Do you have more or less than you have now? How will your existing art fit? Consider the layout of your new home carefully and try not to bring things that you know won't fit.
8. Declutter one room at a time
Decluttering an entire home can be overwhelming, not to mention physically and emotionally draining. Don't feel you have to declutter everything all at once. Set a timescale (as we discussed earlier) and break it down into one room at a time, or one type of object at a time. Smaller decluttering projects feel more manageable and can be done in windows of time whenever you have a spare moment.
9. Ask for help and seek support
If decluttering your home before moving does feel overwhelming, ask a friend or family member to help you. They could help you physically move stuff but also support you to work out whether to keep items if you can't quite decide by yourself.
10. Stop buying new stuff
For the time-being, an easy way to avoid adding to your existing clutter is to not buy anything new until after you've moved. Except, of course, for essential purchases such as food!
11. Sentimental items
Decluttering items that have an emotional connection can be very tough and it's easy to get stuck and be unable to move past. However, unfortunately, when it comes to moving home, everything needs sifting, sorting and moving and we can't stay indecisive when it comes to sentimental items.
Decluttering is like a muscle and the more you use that muscle, the stronger it becomes. Start with easy-to-declutter items and leave old photos and sentimental items until nearer the end when you're more confident in making decisions about what to keep and what to let go. Then perhaps decide to keep just a selection of old photo albums, rather than the entire collection. Consider whether you need to keep EVERYTHING? Where will you put it in your new home? Will it just go into storage? If so, how often will you look at and enjoy it?
12. What to do with your unwanted items
One of the obstacles to decluttering our home is knowing what to do with our unwanted stuff. You could hold a garage sale, sell the items on Facebook Marketplace or eBay. You could donate to charity, pass onto a friend, give books or toys to a local community group, library or hospital. You could recycle old paper items, textiles or fabrics. Knowing what to do with your unwanted items will make the decluttering process easier and quicker.
13. Plan before you start decluttering
It saves time, stress and energy to do a little planning before you even start decluttering. Think about what supplies you'll need, how you can make decluttering a little more fun and enjoyable, what types of decluttering questions you're going to need to ask. Here are some more tips on how to prepare before decluttering.
14. Decluttering questions
Keep in mind these decluttering questions as you declutter before moving.
If something doesn't work, do you need to keep it? Can it be repaired? If so, why haven't you got it repaired before now? Would you use it if worked now. If not, do you really need to keep it?
Can you find the information elsewhere? Reference books and instruction manuals are largely obsolete if you can find the information easily somewhere else, usually online.
When did you last use the item? Unless it's very specific or seasonal, if you haven't used the item in a year or two, are you really like to use it again?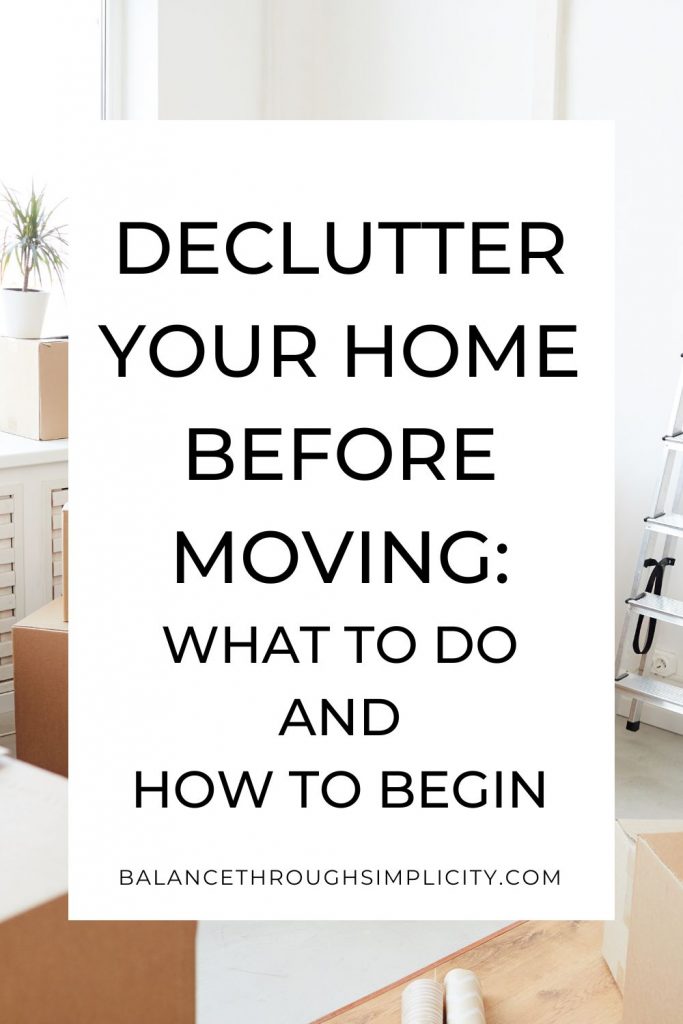 15. Try a decluttering challenge
Sometimes it's helpful to try different approaches to decluttering including checklists and challenges to keep up our motivation and momentum.
Use this handy checklist of 100 things to declutter right now. It includes a free printable worksheet that you can download, print and tick off to track your progress.
Declutter your home in 30 days with this 30-day Declutter Challenge. Simple, daily projects to help you declutter your home one day at a time.
Fill a bin bag in 10 minutes. Have a quick whip around your home and see if you can fill a bin bag in 10 minutes. Just remember to get rid of the bin bag to the donation centre, for recycling or the rubbish depending on what's in it!
Turn your hangers around. A great way of working out what you wear and what you don't. Once you've worn something, return it to your wardrobe and hang it up with the hanger facing backwards. Over time, you'll build up a picture of what you wear and what you don't!
16. Label boxes as you go
If you're decluttering your stuff and putting what you'd like to keep in boxes as you go, don't forget to give those boxes clear labels of what's inside that box. It will make it much easier when you come to pack after moving especially if it's been a little while since you last looked inside that box! Also keep in mind the weight of those boxes. It's easy to keep putting items in a box but then discover it's too heavy to be moved easily.
17. Pack seasonal stuff if you're not going to use it
If you're moving in July and know you won't need your Christmas decorations before you move, pack them up now so they're done and out of the way.
HOW CAN I MAINTAIN MY CLUTTER-FREE HOME?
First impressions count, and staging your home for selling is important, but so too is ensuring your home is clean and organised throughout the selling process. Not only does it affect how prospective buyers feel when they enter your home, but it makes it easier for you, as the seller, to be confident your home is always ready for viewings with minimum stress and hassle.
There are some easy ways to maintain your clutter-free home throughout the selling process. Clearing the obvious clutter and getting rid of items that you don't use, love, or add value in some way is a good start. If you're not planning on taking the stuff with you, declutter it now as a priority to reduce some of your clutter and create visual and physical space. Avoid buying anything new so you're not adding to the clutter until you've moved.
It's also helpful to establish some simple habits to stay clutter-free. Give everything a home for easy storage whilst not in use and put things back after you've used them. Do a daily reset of your home to clear away the clutter of the day. Keep counters, tables, floors, stairs, and flat surfaces clutter-free. Not only does clutter attract yet more clutter but a clear line of sight creates better flow room-to-room and gives the impression of more space.
A clutter-free home is easier to keep clean and tidy. Create a housework rota so you do a few chores on a regular basis. This will keep the daily dust and dirt away more effectively than doing nothing all week and having to catch up at the weekend. Identify the key areas of your home that get the most traffic and use, and prioritise those for cleaning and organising.
Keep in mind what prospective buyers will see and think as they enter your home and move around it. Remove excess clutter and create habits and routines to keep your home clutter-free so potential buyers can get a true feel for how they could use the space if they were to live there.
HOME ORGANISING BEFORE SELLING
If you're planning to sell your home, keeping it clean, organised, and decluttered will help during the selling process. The goal is to leave buyers feeling wowed and to create a space where potential buyers can imagine themselves living. Home organising aims to create a space that creates competition between buyers to help you get the highest asking price.
More information: Home organising tips from the experts – a fantastic and very comprehensive round-up of tips, advice and strategies to help you organise your home before selling.
BE KIND TO YOURSELF
Moving home can be exciting but, depending on your circumstances, it can also be a challenging time, emotionally and physically. Take it slow and steady, make it fun and light-hearted. If you feel overwhelmed, ask for help, switch projects or leave it for today and come back tomorrow when you're feeling refreshed. We attach so many memories to our homes and the stuff in them, possibly over the course of years, so it's not surprising that we can find it difficult to let go and move on. Just do what feels right to you.
IN SUMMARY
Moving can be a stressful time but it can also be a season of exciting change. Decluttering before moving is a natural way of letting things go as you close one chapter and open another. Take the opportunity to reflect on what really adds meaning and value to your life and your home.