30 SELF-CARE IDEAS FOR SUMMER
The days are longer and warmer and many of us can spend more time outside looking after body and mind. Try these 30 self-care ideas for Summer to include in your regular self-care routine.
SELF-CARE IN SUMMER
Your self-care is important. A regular routine of looking after your body and mind helps you keep strong and healthy emotionally, physically and psychologically for the demands of daily life.
Summer is a great time to be outdoors, enjoying the fresh air, warmth and colours of Summer. Here are 30 self-care ideas for Summer to help you take care of yourself. There are plenty of tips for your daily routine, healthy habits and well-being ideas for a healthy and happy body and mind.
Remember that you're important and you deserve and need to prioritise yourself every now and then so you can carry on looking after everyone else! Hop over to my other self-care posts for some more inspiration.
30 SELF-CARE IDEAS FOR SUMMER
Here are 30 self-care ideas for summer to help look after your body and mind.
Take 10 minutes to yourself – It may not be a long time but just having some quiet time to do what YOU want, instead of what others want you to do, can help you recharge your batteries. I like to use a guided meditation on YouTube. You might prefer to pamper yourself with a home spa treatment, enjoy some homemade lemonade and focus on seeking out little moments of joy in your every day.
Go for a walk – Enjoy the sunshine and fresh air. Being out in nature has such a calming effect and there are some great physical and mental health benefits to getting exercise in the outdoors.
Deep-clean your home – Give a little time to cleaning those areas which don't normally get a look in. A detailed, deep clean of your home will freshen things up and make your home feel and look nicer. Think about washing those sofa covers, cushions, curtains and carpets which might be easier to wash and dry if the weather is warmer.
Sort your summer clothes – Declutter your wardrobe and go through your clothes. Wash and store your cold weather clothes if you're unlikely to use them now (although it depends which part of the world you're living in!). Choose your Summer wardrobe, thinking about colours, your go-to signature style, your lifestyle and what type of clothes you need most of. Sort through the items you can donate to charity or those that can be recycled.
Plan your meals – Include plenty of summer vegetables, salads and fruit. For me, the trick to healthy eating has been to avoid stocking up on foods that are high in sugar so that they're not readily accessible without a trip to the shops. This lack of easy access is usually enough to put me off and I'll reach for something easier (like fruit or nuts which I do keep stocks of). The other tip is to make healthy eating as simple as possible. Fewer ingredients, my favourite meals on rotation and as much food prepared ahead of time as I can. Here are some more tips on healthy eating made simple.
Meet a friend for coffee – Enjoy chatting, having a laugh and catching up on news with a good friend.
Journal – Get your thoughts out of your head and down onto paper so you can see them clearly and take action where necessary. Try these journal prompts for self-discovery.
Try meditation – There are some simple guided meditations you can find on YouTube if you need some help getting started.
Redecorate a room or move the furniture around to ring the changes. Here are 20 ways to simplify your home this summer for some more Summer decluttering projects!
Start reading a new book – Find some quiet time to yourself each day to read. Keep a list of books you'd like to read handy, perhaps on your phone, so that when you're looking for new book ideas you can easily refer to your list.
Re-visit your daily routine – Think about your daily routine and habits and what you could do to help yourself be happier, healthier and more productive. Maybe you could get up a little earlier if the mornings are light outside? What could you do with this precious quiet time before the rest of your day gets going?
Go for a picnic or eat a meal outside – This will depend on the weather but if it's warm enough, enjoy eating al fresco!
Throw open the curtains and windows as much as possible – Let in the light and fresh air.
Limit your screen time and enjoy the real world around you instead of the virtual, filtered one on your phone!
Enjoy your summer holiday (or try for a few days out instead!)
Wash your car and clean the inside
Plan a day out – Now the weather is warmer, it's easier to plan a trip out. Visit somewhere new, get a change of scene and give yourself something to look forward to!
Decorate your home with seasonal colours and accessories – Go for colours and textures that reflect the season we're in and bring some sunshine from outside into the indoors.
Take care of your skin – Apply sun cream, after sun lotion and wear light, loose layers to avoid sunburn. Here are some more steps for a summer skincare routine you might find helpful.
Buy some fresh flowers for your home – Liven up your home, introduce some scent, beauty and pops of colour with some freshly cut flowers.
Take up yoga and stretch that body.
Gratitude – Practice daily gratitude and appreciate all that you have in life, instead of constantly searching and wishing for what you don't.
Re-visit your beauty routine – Is it time to change colours, find a new product you like or simplify your make-up routine?
Take up a new hobby – Try an evening class, an online course or just something you can learn from your own home. Grow your mind!
Declutter your home – Clutter costs us in so many ways. Time, space, freedom, money. Free yourself from the cycle of clutter, find ways to declutter your home as fast or slow as suits you and your family and what feels comfortable. Lose the guilt, make it easier to keep your home clean and tidy and regain control over your home. Decluttering is a wonderful form of self-care.
Take up gardening – Anything from mowing that grass and full-scale landscaping to planting a few seeds in flower pots to keep on your window sill. Read more about how minimalism benefits the environment for some ideas.
Sort through your winter outdoor coats – Store once the weather is warmer and you don't need to access them.
Go for a hair-cut – Either freshen up your existing style or try a completely new style!
Spread the love – Do something nice for someone else. Acts of kindness to others can have beneficial effects on our own mental health and wellbeing so pay kindness forward and hope it spreads like a ripple effect to others who might need it!
Remember you are special – Because you are! No matter how busy life is, be kind and compassionate to yourself. Show up for your life and listen to your body, heart and mind. Your body sends out signals about what it needs so take a moment to reflect on what you need to look after your special and wonderful self!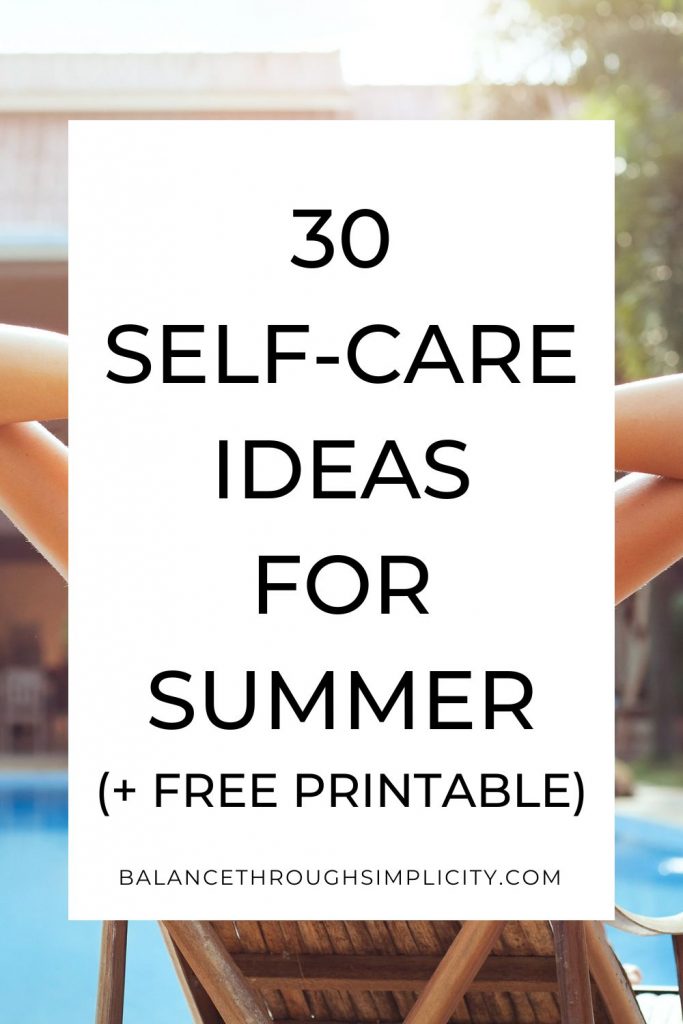 SELF-CARE THROUGHOUT THE YEAR
If you enjoyed these ideas, here is a round-up of my seasonal self-care collection: