10 WAYS TO FIND MOMENTS OF JOY IN YOUR EVERY DAY
Life can feel tough sometimes. In this article I'm sharing 10 ways to find moments of joy in your every day. Little ways to bring happiness and comfort to your daily routine.
THE ROUTINE OF EVERY DAY TO SIMPLIFY YOUR LIFE
For many of us, one day can tend to feel very much like another. We might have some big ups and downs to navigate but our life is largely made up of one day leading into another. We follow our own habits and routines, go to work, walk the dog, make dinner, oversee homework, pursue our hobbies and deal with whatever challenges are presented to us so we can show up for life in the best way we can.
Creating your own daily routine, getting organised, planning ahead and clearing clutter can all help to simplify your life and create more time, space and freedom for what you'd LIKE to do, not just what you HAVE to do.
Although our daily activities should be flexible enough to allow room for fun, excitement and opportunity, I think many of us benefit from having a loose framework to provide structure. This could help us, for example, keep our home clean and tidy with minimal effort, or build a healthy work-life balance.
The routine of our every day does help simplify life so we have more ease and less stress.
THE BEAUTY OF EVERY DAY FOR AN INTENTIONAL LIFE
However, within our every day lies a beauty. As Annie Dillard says, "How we spend our days is, of course, how we spend our lives." What we do from one day to the next shapes our life, what we feel about it and how meaningful we make it. So, whilst there is the routine of every day, there is also the beauty of every day.
An intentional life is one of purpose and passion. It's about finding what makes your heart sing and your mind be curious. Intentional living is really just a fancy way of saying you know what you want in life and you go for it, instead of living on auto-pilot, drifting through those routine days I mentioned above but without a sense of direction and purpose.
You might like to try my free 1-week mini course, Your Intentional Life, to explore how the concept intentional living could help you find clarity and purpose in your own life. Learn more about Your Intentional Life.
Whilst goal-setting, personal growth, learning and reflection are all part of an intentional life, I think there's another bit of magic that we can sprinkle into our days to help us find moments of joy amongst the otherwise mundane or routine.
MOMENTS OF JOY IN YOUR EVERY DAY
Although big things do happen (both good and bad), for most of us it's the little things (also good and bad) that happen more often. Today I felt like writing about some moments of joy to remind us all, myself included, that joy can be found even in the routine of our every day. It's just up to us to be aware of and seek it out.
The ideas I'm sharing might seem obvious, even simplistic, but for those who feel that life is an uphill struggle, perhaps they'll catch your eye and heart as you go about your day – to bring a little happiness, respite and calm to body and mind. After all, if we're not on the look out for things, sometimes we move too fast to notice them.
10 WAYS TO FIND MOMENTS OF JOY IN YOUR EVERY DAY
Whilst some days may be better than others, we can learn to seek out that beauty with awareness and practice. This is the topic of today's article! Here are 10 ways to find moments of joy in your every day. Many of these ideas are just 'moments' and might not take you longer than a few minutes so they're realistic and accessible even on your busy days!
1. A glass of water or cup of something
Water is good for the body in so many ways. Pour yourself a glass of water and sip it slowly. Let your mind wander as you rehydrate your body and take a few minutes for yourself. A cup of tea or mug of coffee or cocoa may work instead. Use your favourite glass or mug, make it a ritual that deserves peace and quiet to really savour.
2. Hand on heart
Get comfortable and rest your hand on your heart. Breathe slowly and evenly for a couple of minutes. What is your heart calling you to do next? Is it saying something different to your calendar or your To Do list?
3. Phone a friend
Humans need connection but so often we don't have time to work on our important relationships. Phone a friend, make a date to meet up, share some news, have a giggle. End up with a smile on your face. A smile in itself is good for you.
Get your free download: At the top and bottom of this article you'll find a space to put your details and get a free copy of my free Self-Care Guide. It features many quick and easy ways to take care of yourself and be happier.
4. Move your body
In whatever way feels right for you, move your body. Not to work out but just to feel movement and be aware of how your body feels, and what it might be telling you. Dance to music, sway gently on the spot, release tension in your shoulders and neck whilst at your desk, walk round the park, complete a yoga flow, wiggle your toes. Your body is amazing, let's treat it with kindness.
5. Don't save your best things for another time
Whether this is luxury bath products, your finest porcelain or your favourite dress, don't wait for a special occasion to bring it out. None of us know when that special occasion might be or whether we'll get to use it. Use or wear it today and make today special because it is!
6. Add beauty
Minimalism is sometimes portrayed as stark and cold, drab and colourless and devoid of emotion. Well, that's not how I view it or the kind of minimalism that I like to share with others. A simplified, minimalist home can look like whatever you want it to, but it doesn't have much or any of what you don't want it to look like. Everything in it has a purpose. However, purpose isn't just in a practical sense, something beautiful has purpose too. It's just a different form of purpose. To bring moments of joy to your every day, add beauty to your home – a favourite fragrance welcoming you through the front door, a vase of flowers on your kitchen counter to look at whilst you wash up, a favourite lipstick to make you feel good!
7. Slow down
I used to be guilty of rushing, whether it was getting from A to B or eating too quickly. Not only did this give me indigestion but I'd also miss out on the beauty around me. Slow down to find moments of joy from the birds singing, the sun casting playful shadows, the wind on your face, the changing colours of the season, the flavour and texture of your food.
To find those moments of joy in your every day you have to be going at a pace to notice them.
"If you're always racing to the next moment, what happens to the one you're in? Slow down and enjoy the moment you're in and live your life to the fullest." (Nanette Mathews)
8. Your favourite food
I love a little square of dark chocolate. It's a tiny treat that I can savour every day just for the pleasure of taste. I know that I can indulge my taste buds without feeling guilty that I've eaten too much of the wrong stuff. A little bit of what you fancy and in moderation is good for the soul and our stress levels! What little treat could you indulge in every now and then to bring a moment of joy to your day? Go on, pop it on your shopping list!
9. Housework as an act of love
Ok, so housework in itself might be an unusual addition to this list but hear me out! When I get frustrated at chores and tidying up the mess of the day, I try to reframe how I think about housework. Not that it's ongoing, boring, time-consuming, energy-sapping and a waste of effort but instead it's a way I care for my family and take pride in my home. I clean to make a better environment for raising my kids, entertaining family and friends, for providing calm and peace to my introvert, HSP personality and cultivating a sanctuary for myself away from the busy outside world. Housework is a means to a very worthwhile end and thinking of it this way, makes chores feel more like moments of joy than moments of dread and hassle. Delegating tasks to my husband and kids also gives me another moment of joy too!
10. Your evening routine
Bring closure to your day with a calm, relaxing evening routine that gives you time for yourself, time to wind down and get ready for a good night's sleep. After the stress and duties of the day, bring a moment of joy to your evening. Here are some tips for a mindful, thoughtful evening routine.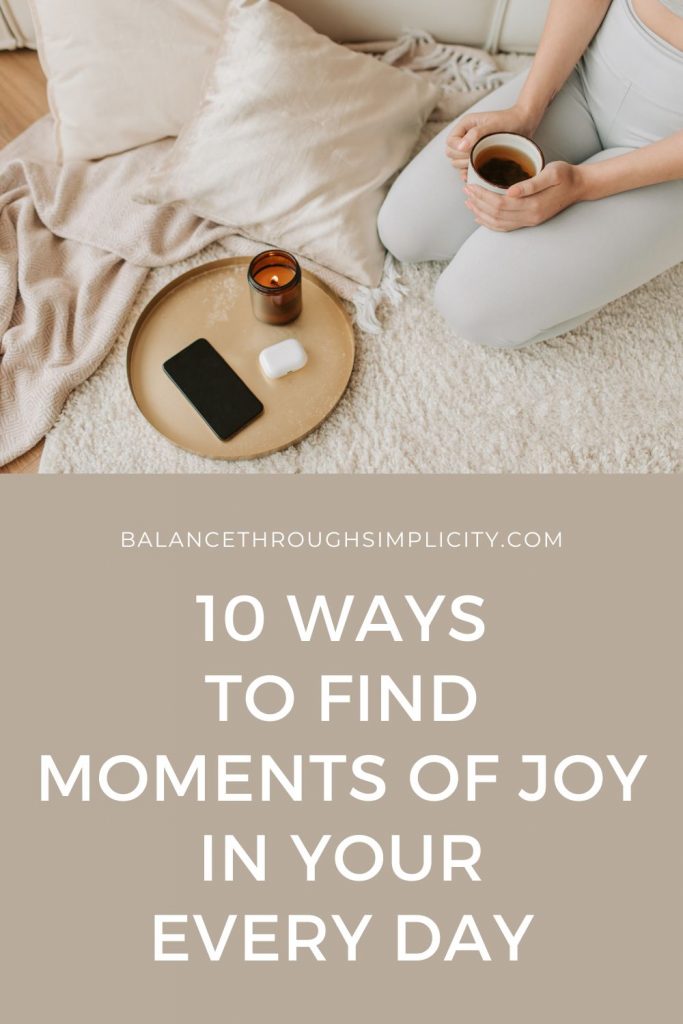 BONUS IDEAS
Here are some more ideas for little moments of joy in your home and life:
Make your entrance way easy to use, free of clutter and a pleasure to leave from and return to as the gateway between your home and the outside world
Date night, date coffee or date breakfast with your partner or your kids to spend a little bit of time with your loved ones.
Put a photo of your loved ones on your desk at work and smile at it every time you look away from your screen.
Buy a beautiful journal and start a regular journaling practice to reconnect yourself with your intentional life
Listen to music
Take a slow bath instead of a quick shower
Take a nap in your favourite cosy place
Create a meditation space where you can take a few minutes each day to restore calm to body and mind
SHARE YOUR THOUGHTS
I hope you enjoyed this article and it's made you think of some creative ways to bring little moments of joy to your every day. Do you have any other ideas that you'd like to add or that might help others? I'd love to hear from you so please leave a comment!
MORE ARTICLES TO HELP YOU LIVE INTENTIONALLY
30 Journal Prompts to Start The Week With Intention and Clarity (+ Free Printable) – Want to get ready for the week ahead and make it a great week, full of things that make life meaningful to you? Here are 30 journal prompts to start the week with intention and clarity. I hope they help simplify your life so you can look forward to the week ahead and get the most out of it!
My Intentional Living Journey: Steps to a Simple and Intentional Life – Living intentionally isn't a one-off project you can do and tick off your list. In this article I'm sharing my own intentional living journey. I invite you to take your own steps towards a simple and intentional life with less stress and stuff and hopefully more ease, time and freedom for what matters to you.
Gratitude Practice: How to Use Gratitude to Improve Your Life – Every morning I find the time to write a gratitude list. It only takes a few minutes to brainstorm 5-10 things I'm really grateful for in my life but it sets me up for the day and helps me clarify and focus on my priorities. Check out this post on how to create a regular gratitude practice to improve your life.