30 SELF-CARE IDEAS FOR SPRING
The days are getting longer and we're over the worst of the cold, dark Winter. Look forward to a brighter, sunnier Spring to rejuvenate body and mind. Try these 30 self-care ideas for Spring to freshen up your regular self-care routine.
SELF-CARE IN SPRING
Your self-care is important. A regular routine of looking after your body and mind helps you keep strong and healthy emotionally, physically and psychologically for the demands of daily life.
Spring is a time of new beginnings, for transformation and growth. There is fresh colour in the garden as the new shoots of Spring flowers start to emerge. The warming weather means it's also easier for us to get outdoors instead of hibernating inside over Winter.
Here are 30 self-care ideas for Spring to help you take care of yourself. There are plenty of tips for your daily routine, healthy habits and well-being ideas for a healthy and happy body and mind.
Remember that you're important and you deserve and need to prioritise yourself every now and then so you can carry on looking after everyone else!
Hop over to my other self-care posts for some more inspiration.
30 SELF-CARE IDEAS FOR SPRING
Here are 30 self-care ideas for Spring to nourish your body and grow your mind.
Take 10 minutes to yourself – It may not be a long time but just having some quiet time to do what YOU want, instead of what others want you to do, can help you recharge your batteries.
Go for a walk – Enjoy the sunshine and fresh air. Get some exercise to move your body and listen to the birds. Walk as fast and for as long as you like!
Spring-clean your home – Give a little time to cleaning those areas which don't normally get a look in. A detailed, deep clean of your home will freshen things up and make your home feel and look nicer. Think about washing those sofa covers, cushions, curtains and carpets? Try these ideas to spring-clean your home from Porch.com
Sort your spring clothes – Declutter your wardrobe and go through your clothes. Wash and store your cold weather clothes if you're unlikely to use them now (although it depends which part of the world you're living in!). Choose your Spring wardrobe, thinking about colours, your go-to signature style, your lifestyle and what type of clothes you need most of. Sort through the items you can donate to charity or those that can be recycled.
Plan your meals – Include plenty of spring vegetables, salads and fruit. You might like to try these simple tips for healthy eating if you want to spring-clean your body as well as your home!
Meet a friend for coffee – Enjoy chatting, having a laugh and catching up on news with a good friend.
Journal – Get your thoughts out of your head and down onto paper so you can see them clearly and take action where necessary. Try these journal prompts for self-discovery or these journaling tips for beginners if you're new to the practice but would like to try it for yourself.
Try meditation – Listen to a guided meditation from YouTube or just sit quietly and comfortably and focus on your breathing. Try to be totally present in the here and now and when your mind starts to wander, re-centre it on your breathing. Enjoy a few moments of peace, quiet and stillness to yourself.
Redecorate a room or move the furniture around to ring the changes. Try these tips on how to simplify your space.
Start reading a new book – Find some quiet time to yourself each day. As Stephen King states, "Books are a uniquely portable magic." In a busy world where everything is noisy and buzzing, a good book is a calm and restorative place to retreat – either for fun or learning or both!
Re-visit your daily routine – Think about your daily routine and habits and what you could do to help yourself be happier, healthier and more productive.
Go for a picnic or eat a meal outside – This will depend on the weather but if it's warm enough, enjoy eating al fresco!
Throw open the curtains and windows as much as possible – Let in the light and fresh air.
Limit your screen time and enjoy the real world around you instead of the one on your phone!
Book your summer holiday (or at least a few days away!)
Wash your car and clean the inside
Plan a day out – Now the weather is getting nicer, it's easier to plan a trip out. Visit somewhere new, get a change of scene and give yourself something to look forward to!
Decorate your home with seasonal colours and accessories – Go for colours and textures that reflect the season we're in and bring some Spring from outside into the indoors.
Take care of your skin – Winter dries out our skin so make a point of rehydrating and moisturising dry, cracked skin.
Buy some fresh flowers for your home – Liven up your home, introduce some scent, beauty and pops of colour with some freshly cut flowers.
Take up yoga and stretch that body – There are many resources on YouTube but my favourite is Yoga with Adriene.
Gratitude – Practice daily gratitude and appreciate all that you have in life, instead of constantly searching and wishing for what you don't.
Re-visit your beauty routine – Is it time to change colours, find a new product you like or simplify your make-up routine? Take a moment to declutter any make-up or beauty products that are past their best.
Take up a new hobby – Try an evening class, an online course or just something you can learn from your own home. Grow your mind!
Declutter your home – Remember that decluttering is a wonderful form of self-care. Try this list of 50 easy things to declutter right now to kick-start your decluttering.
Take up gardening – Anything from mowing that grass and full-scale landscaping to planting a few herb seeds in flower pots to keep on your kitchen window sill.
Sort through your winter outdoor coats – Store once the weather is warmer and you don't need to access them.
Go for a hair-cut – Either freshen up your existing style or try a completely new style!
Spread the love – Do something nice for someone else.
Remember you are special – Because you are!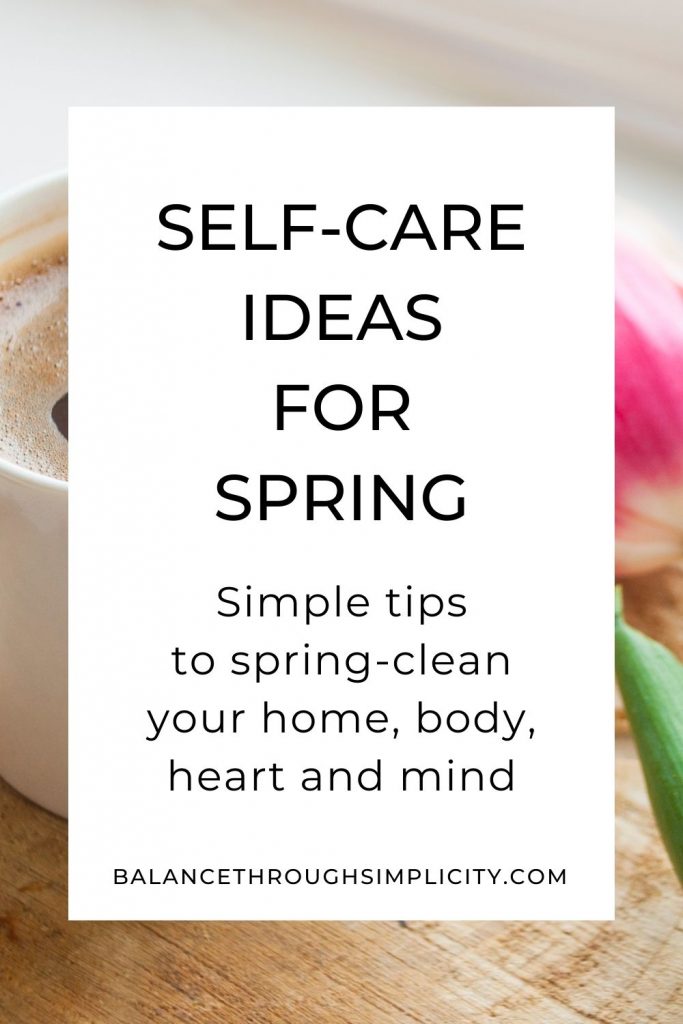 SELF-CARE THROUGHOUT THE YEAR
If you enjoyed these ideas, here is a round-up of my seasonal self-care collection:
MORE ON THIS TOPIC
If you enjoyed these self-care ideas for Spring, then perhaps you might like to read some of these articles and resources on self-care, slowing down and finding time to take care of yourself: