30 SELF-CARE IDEAS FOR AUTUMN
Autumn is a season of change. Nature transitions from the light of summer to the dark of winter and for many of us, the kids are back at school and our diaries get busier. Try these 30 self-care ideas for Autumn to help you find time for yourself in a busy season of the year.
SELF-CARE IN AUTUMN
I love Autumn! I love the changing colours, falling leaves and watching how nature starts to prepare itself for Winter.
Autumn is also a season when I have to juggle kids returning to school, a busy time at work and a fuller schedule.
I try to limit the busyness as I feel better when I have wiggle room in my diary and I'm not on the go all the time, but Autumn is a busy time for all my family, especially after a slower Summer!
When life does get busy, it's easy to push ourselves to the bottom of the priority list. We say we're too busy, have too much to do and looking after ourselves can wait.
But, really, what are we waiting for?! Will there ever be a good time?
Over the years, I've learnt that busy times are when I especially need to make time for myself, even just a few minutes every day to relax, recharge and reset. I feel better and less stressed, have more energy and I'm definitely more ready for whatever the day throws at me!
If you feel you're hitting a busy season or would just like some seasonal inspiration to make time for yourself, then I hope this post is helpful!
30 SELF-CARE IDEAS FOR AUTUMN
Here are 30 self-care ideas for Autumn that are simple, practical and effective. Choose whichever feel right to you.
1. Journal
Get your thoughts out of your head and down onto paper so you can see them clearly and take action where necessary. Journaling is a wonderful way of reconnecting with yourself, quietening a busy mind and exploring how you feel about yourself and your life. Try these journaling tips for beginners to help you get started and create a journaling habit that truly supports you.
2. Enjoy a warm drink
Make yourself a warm drink and make time to actually sit and drink it whilst it's still warm! This exercise isn't just about the drink, it's about practicing taking a few minutes out for yourself without feeling guilty or selfish. Focus on your drink and the here and now. By all means make plans for what you need to do after you've finished your drink but that doesn't mean you can't or shouldn't enjoy sitting quietly with your drink just for now.
3. Focus on your mental health
Just as the days draw in, sometimes so do our hearts and minds. Make it a daily practice to do something to look after your mental health, not just your physical health. Here are some tips on how to declutter your mind and find clarity, focus and peace in your thoughts.
4. Enjoy the changing colours and falling leaves
Take a walk outside, splash in the puddles and swish through the leaves on the ground. Make a note of how the leaves are changing as you pass by them! Nature is so beautiful at this time of year and walking has many health benefits, besides being cheap and easy too, so it's a winning combination.
5. Unplug from social media
Come away from social media and do something different with your time instead. I'm not saying that social media doesn't have its place, but I do think it's wise to be mindful of how you consume it.
6. Light a scented candle
Bring a little warmth and cosy light to your home now that the days are getting shorter. Read more ways to make your home cosy without adding clutter.
7. Learn to say no
Don't feel you have to say yes to every request, invitation or opportunity. Listen to your body and what it needs. Being intentional with your time doesn't always come easy. Sometimes we get swept along with the busyness of life. It takes courage and planning to identify how and where to spend our time and stick to it. For some tips on creating boundaries, in your life and with your time, try this article on how to set boundaries and try the free printable that you can download with that article.
8. Decorate your home
Choose Autumn colours and be inspired by your walks outside! You can ring some seasonal changes in your home without spending a fortune or adding clutter. Swap a cushion cover or two, add a candle or pumpkin, an extra throw or blanket. Maybe choose accent colours that echo the colours of nature.
9. Read a book
When it's wet and windy outside, nothing beats curling up under a blanket with a good book.
10. Gratitude
Practice daily gratitude to appreciate all that you have in life, instead of constantly searching and wishing for what you don't. Gratitude is a powerful mindset to help you focus on the present, give thanks for the wonderful things in your life and help you stop with the destructive traits of comparison or envy. I also find that I feel more settled and content with my life and less like I need to fill a gap with a shopping trip and more stuff!
11. Ten minutes to yourself
It may not be a long time but just having some quiet time to do what YOU want, instead of what others want you to do, can help you recharge your batteries. Try these 10-minute self-care ideas for inspiration!
12. Bake
I love the smell of freshly baked cakes and cookies so hone your baking skills when it's warmer in the home than outside it!
13. Learn a skill
Again, you might not be able to spend so much time outside with the shorter days so think about ways you can use your time productively inside instead.
14. Keep hydrated and drink plenty of water
Don't let your skin dry out because the heating's going full-blast.
15. Knock something off your To Do list
Either plan to do it this week or remove it completely. It's one less thing to do and think about! Here are some tips to help you make a simple, strategic To Do list.
16. Declutter your home
Perhaps you've had the kids at home for the summer break and your home has felt a little cluttered and chaotic. Or perhaps the weather is turning and it's nicer inside than out. Take a look around your home and identify some decluttering projects which you can tackle when you have time. Not only will your home become more clutter-free but decluttering is also a wonderful form of self-care.
You might also enjoy these 30 things to declutter in October for some fun and seasonal decluttering projects!
17. Spend time with loved ones
For many of us, this season is a time for family and friends so make a point of connecting with those who mean the most to you. Send a text, post a letter, type an email, write a card, make a phonecall. As well as brightening your day, you might also brighten theirs too!
18. Enjoy and experiment cooking stews and soups
Create some warm and hearty meals that you can batch cook and make big quantities of these to freeze for super-busy times. This is a great way to spend a few hours, bring inviting flavours and smells into your home plus it helps save time and stress in deciding what to eat – the food is already prepared so you just have to reach into the freezer for it!
19. Have a pyjama day
Why get dressed if you don't have to? Watch your favourite film or find a good book. Snuggle up with a blanket or in bed and treat yourself with some tasty food and drink. It's ok to pamper and indulge yourself every now and then when you need it!
20. Listen to a podcast
Learn something new and be inspired! You can also go for a walk or do the housework at the same time if you want to.
21. Call a friend or loved one
A good chat with someone you love and trust does wonders for our mental health.
22. Bath and bubbles
Nothing beats a long soak in a warm bath with some lovely bath products to add a little touch of luxury!
23. Sit still in silence for 5 minutes
Find the value in doing nothing and listen to yourself, instead of the world around you. Try it now. What do you hear and what thoughts come forward for you?
24. Sort your Autumn clothes
Declutter your clothes, move this season's clothes to wear you can find them easily and move last season's clothes to the back, side or pack them away until you're likely to need them next. Here are some tips on how to do a seasonal clothes declutter to help you transition your wardrobe into Autumn.
25. Meditate
Find a few minutes to yourself and quieten your mind. If you find it difficult, try a guided meditation (there are plenty to choose from on YouTube for example!).
26. Arrange a night in
Arrange a fun and cosy night in for you and your partner, family or friends. Make it really special by making everyone feel at home.
27. Create your own morning routine
When life gets busy, I find it helpful to get up a little earlier and do things that prepare me, physically and emotionally, for the day ahead. Here are some ideas for your own morning routine and tips on how to get up earlier. If you'd like to overhaul your morning routine completely, try this Morning Routine Planner packed with ideas, prompts and so much more.
28. Declutter your schedule
Don't fall into the trap of doing too much. Create free space in your diary whenever you can and enjoy that down time. Here are some tips on how to declutter your schedule.
29. Share a hug
Give someone a hug, either for warmth or to show them some love.
30. Remember you are special
Because you are!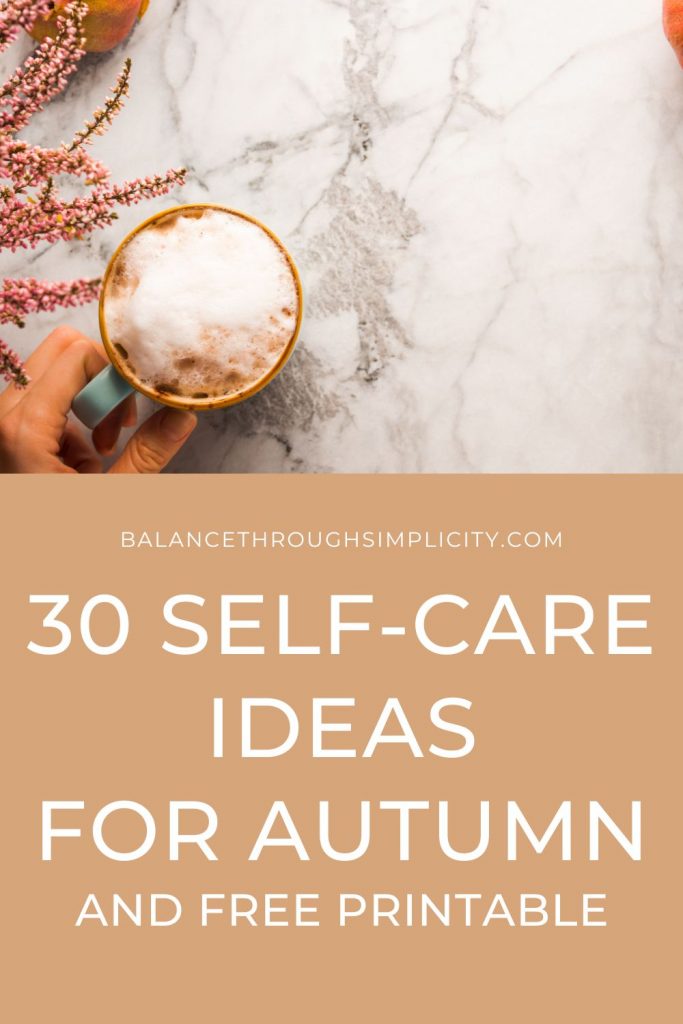 SELF-CARE RESOURCES
I hope you enjoy these 30 self-care ideas for Autumn. Try them out and see which ones work for you!
I know that for many of us, self-care seems difficult, especially if you have little kids or a schedule that's jam-packed. We leave ourselves to the end and then wonder why we're feeling so worn out, tired, resentful and stressed out.
I'd like to encourage you to think differently about how you look after yourself and think about ways that you can really make your home, heart and mind feel lighter generally.
Here are some resources which might help you do that:
The Ultimate Self-Care Toolkit – Struggling to make time for you? A guided workbook to help you create a consistent, realistic self-care plan to take care of yourself.
SELF-CARE THROUGHOUT THE YEAR
If you enjoyed these ideas, here is a round-up of my seasonal self-care collection: